Please pardon the mess while a new website is created to better serve you.
In the meantime, you can purchase some Designs by Debi™ products on Poshmark and on Etsy.
I apologize for the inconvenience.
Sign up for my newsletter to receive updates.
Contact me with any questions.
Thank you.

Custom orders and special requests are always welcome.
Feel free to e-mail me with any special requests you may have. If you have a desire for particular colors, styles, bead types or even unusual lengths I can work with you to create a design you will cherish. Custom orders are great for weddings, proms, special occasions or even if you just want perfectly matched jewelry for a particular outfit, like so....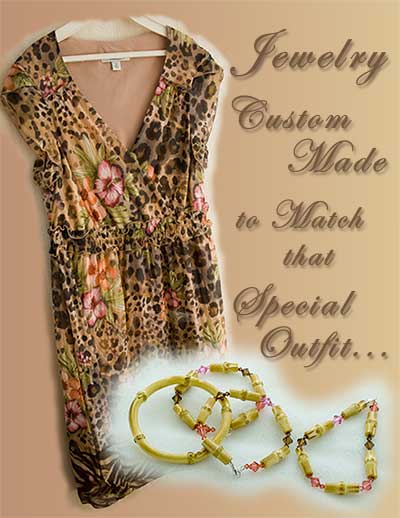 This is also a great way for brides to take care of getting their bridesmaids' jewelry and gifts in one swoop. Jewelry can be made to coordinate with the color of the gowns. And a great way to make it do double duty and also be a gift they will enjoy and wear again, is to have the jewelry made in different styles according to each girl's taste and personality...instead of cookie-cutter bridesmaids, they can be comfortably different and you still get beautiful, perfectly color-coordinated jewelry!
Once you e-mail me with your request, we can get to work on a design for you. I will obtain all necessary information and quote you a price before beginning your project. I will guide you through taking measurements and all the other details. And I will keep in touch with you during the process, sending pictures for your approval to be sure you are absolutely delighted with the result.
The ability to complete the process via e-mail means that I can accept a custom order from you no matter where in the world you may live or be having your special event.
In the Gallery of Designs you can see pictures of my work that has been sold. This will be a great place to get ideas for your custom order. Many of my designs are one of a kind and cannot be exactly duplicated. However, there are also many designs that can be. So if you like something that has been sold, contact me to inquire about having one made for you.
Custom orders cannot be returned because they are made to your specifications and may not be saleable to another customer. Due to the fact that I walk you through all phases to ensure your satisfaction, this is generally not an issue. I will guide you through obtaining accurate measurements for proper fit. And when precise color matching is required, for matching bridesmaid gowns, for example, I will request a swatch of fabric because computer monitors vary and colors may not be represented accurately.
A note for customers who prefer solid gold: I do not stock any solid gold components as they are extremely expensive. If you desire to have a piece commissioned in solid gold, it can certainly be done. However, it will take longer due to the need to order necessary items and will need to be paid for in advance. After agreeing on a design, I will price all of the components and contact you with the final price. If it is acceptable to you, I will send you an invoice for payment. Once I receive payment, I will place all necessary orders and complete your piece as soon as the design elements have arrived. Please note that due to fluctuations in the price of gold, price quotes are only accurate for a short period of time.
Return to Designs by Debi Handmade Jewelry Home Page