Please pardon the mess while a new website is created to better serve you.
In the meantime, you can purchase some Designs by Debi™ products on Poshmark and on Etsy.
I apologize for the inconvenience.
Sign up for my newsletter to receive updates.
Contact me with any questions.
Thank you.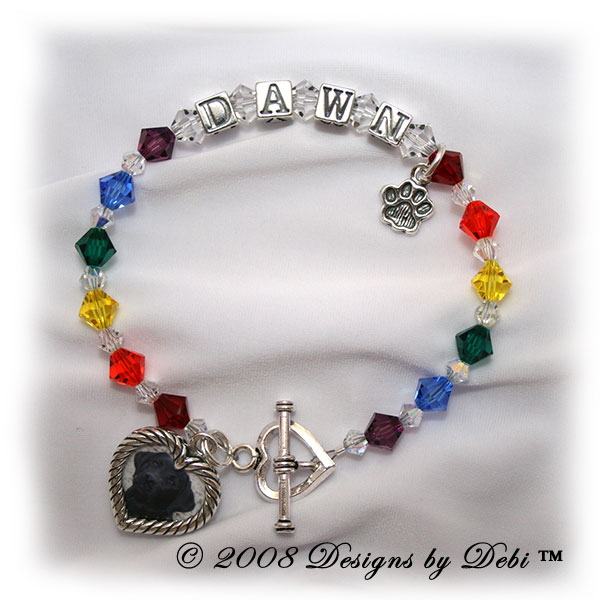 Style #1

Style #2

Style #2 in one of the new designs for Horses
♥
I designed the Rainbow Bridge Pet Memorial Bracelets™ especially for those who have lost a beloved pet. To many of us pets are family. They bring great joy into our lives and when we lose a pet it hurts...often just as much as losing a human friend or family member. The Pet Memorial Bracelet is a great way to carry your love for your pet and happy memories of them with you every day to bring you comfort.
The bracelet comes in 2 basic styles.
Both styles feature your pet's name in sterling silver letter blocks; a sterling silver charm dangling at the end of his/her name; a sterling silver heart-shaped toggle clasp and a sterling silver
heart-shaped frame charm with openings on both sides for you to add pictures of your pet.
The original designs have a paw charm hanging at the end of your pet's name. By request in 2011 I added designs for horses with 3 charms to choose from. But honestly, custom orders are my specialty and, with the vast selection of charms available, these bracelets can actually be customized for any kind of pet :)
Style #1 is made using Swarovski® crystals in clear (between the letters), crystal AB and the colors of the rainbow.
Style #2 is made with Swarovski crystals, sterling silver beads and a dangle of Swarovski crystal bicones in the colors of the rainbow. There are 4 sterling silver bead combinations you can choose from. And, although I designed the sample in the photo using clear crystals, you can request any color you want. I've included a photo of the Swarovski birthstone colors to give you some ideas, but there are hundreds of colors available.
You can get ideas by looking at some of the ones I've done in the Rainbow Bridge Pet Memorial Bracelets™ Gallery.
And for more options, look at the Pet Name Keepsake Bracelets. There are many style options available that could easily be customized into a memorial bracelet.
Your bracelet will be custom made for you and will arrive nicely
gift-boxed. You will also receive a 4x6 inch copy of the
Rainbow Bridge poem suitable for framing.
Style #1 ~ $60.00
Style #2 ~ $74.00
* To Designs by Debi ArtFire Studio for purchase *
♥
A portion of the proceeds from each Rainbow Bridge Pet Memorial Bracelet™ sale is donated to Best Friends Animal Society.
You can find out more about Designs by Debi Philanthropy here.
♥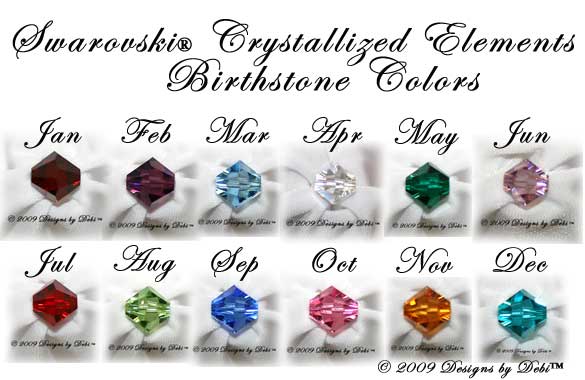 Charm Choices for Horses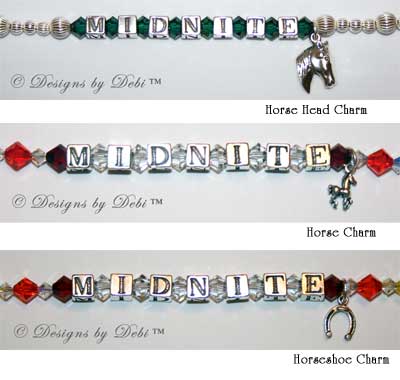 Return to Bracelet Boutique
Return to Handmade Jewelry Boutique
Return to Designs by Debi Handmade Jewelry Home Page
♥ ♥ ♥ ♥ ♥ ♥ ♥ ♥ ♥ ♥ ♥ ♥ ♥
For the time being, purchases of Designs by Debi jewelry, accessories and novelties will be completed through my ArtFire Studio. Links in each item description and on each specialty item page will open the studio in a new window so you can place desired items in the shopping cart. Purchasing through ArtFire is safe, quick and easy and you do not need to have an account with ArtFire or PayPal. For more information see the FAQ's page. If you see something here that you don't see on ArtFire or you do not want to buy from my ArtFire Studio, contact me and I will work directly with you.
Thank You!
♥ ♥ ♥ ♥ ♥ ♥ ♥ ♥ ♥ ♥ ♥ ♥ ♥