Please pardon the mess while a new website is created to better serve you.
In the meantime, you can purchase some Designs by Debi™ products on Poshmark and on Etsy.
I apologize for the inconvenience.
Sign up for my newsletter to receive updates.
Contact me with any questions.
Thank you.

The Guardian Angel Prayer Chain™ is a concept that I created back in 2007 and it is unique to Designs by Debi.
It can be used by people of any faith because the prayer chain's function is to serve as a meaningful representation of intentions that can be held during prayer to bring comfort to the holder.
It consists of two strands of beads and charms hanging from an ornate, textured Bali Fine Silver Heart.
There are endless possibilities for customizing these strands because of all the different colors and materials available...beads, crystals, charms and even attaching personal items can truly make each one unique and very special. Some ideas for their use:
~ They can be very comforting for someone with a loved one on active duty in the military.
~ They can be a source of strength and hope for someone battling cancer or other diseases and/or those praying for him/her.
~ They can be inspirational for someone struggling through a tough time who could use a guardian angel to help them.
~ They could even be used for weddings, to attach to the bride's bouquet, incorporating the wedding colors with the bride's name on one strand and the groom's on the other;
a symbolic blessing of their union.
I have included some sample photographs below along with explanations of what they represent.
Contact me if you have or need ideas for
a Guardian Angel Prayer Chain ™ of your own.
Prices will vary widely depending on the materials used, but this flexibility also makes them affordable for just about anyone.
This is my Guardian Angel Prayer Chain™.

I came up with the concept for this product back in 2007 when my best friend was put on notice that he could be deployed to Iraq. I was scared and found it very comforting to have something meaningful to hold onto during prayer.

It is a great example of how you can personalize them and truly make them special.

I used Swarovski® crystals in patriotic red, clear and blue with star-shaped spacers in between them; fiber-optic flag beads and round silver beads.

Dangling from that wonderful, textured heart, one strand has his name in sterling silver block letters along with a combo ribbon charm that is half yellow and half flag and an Air Force charm because that is his branch of service.

The other strand was for a guardian angel for him...I made an angel out of beads and attached my late grandfather's dog tag in hopes that he would watch over him.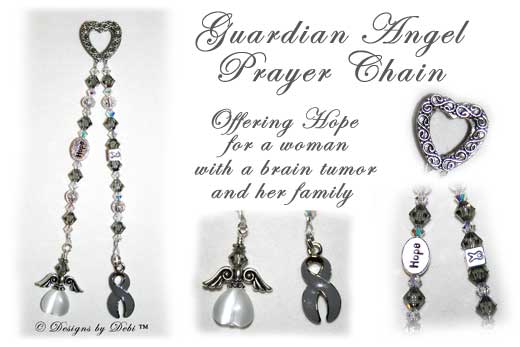 This is a Guardian Angel Prayer Chain™ that I made for a friend whose sister is battling brain cancer. I went with a gray color scheme and awareness ribbon charm because that is the color for brain cancer. (I have compiled lists of Awareness Ribbon Colors and Meanings in alphabetical order by color and by cause that you can refer to.) I included a sterling silver awareness ribbon block bead on one strand and an oval Hope bead on the other along with Swarovski® crystals and silver filigree beads. I also attached an angel with a gray head and white cat's eye heart. I chose the heart because my friend loves hearts and she is caring for her sister; truly an angel I'm sure.
| | |
| --- | --- |
| | This is a Guardian Angel Prayer Chain™ that I made for a friend who is battling breast cancer. Of course you know pink is the awareness color for breast cancer so the color scheme is pink. There are Swarovski® crystals in rose pink and crystal AB; glass pink ribbon beads; silver filigree beads; a silver Hope bead; a silver Believe bead and, of course, a pink awareness ribbon charm as well as a pink and crystal angel. |
Return to Handmade Jewelry Boutique
Return to Designs by Debi Handmade Jewelry Home Page
♥ ♥ ♥ ♥ ♥ ♥ ♥ ♥ ♥ ♥ ♥ ♥ ♥
For the time being, purchases of Designs by Debi jewelry, accessories and novelties will be completed through my ArtFire Studio. Links in each item description and on each specialty item page will open the studio in a new window so you can place desired items in the shopping cart. Purchasing through ArtFire is safe, quick and easy and you do not need to have an account with ArtFire or PayPal. For more information see the FAQ's page. If you see something here that you don't see on ArtFire or you do not want to buy from my ArtFire Studio, contact me and I will work directly with you.
Thank You!
♥ ♥ ♥ ♥ ♥ ♥ ♥ ♥ ♥ ♥ ♥ ♥ ♥