Please pardon the mess while a new website is created to better serve you.
In the meantime, you can purchase some Designs by Debi™ products on Poshmark and on Etsy.
I apologize for the inconvenience.
Sign up for my newsletter to receive updates.
Contact me with any questions.
Thank you.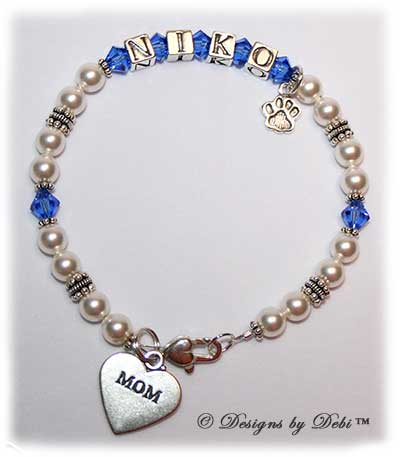 This is a Kiara Style Pet Keepsake Bracelet in the Pearls bead combination with Sapphire (September) crystals, a heart padlock lobster clasp, Mom heart charm and additional Paw charm added at the end of the name.
| | |
| --- | --- |
| | |
| This is a Karen Style Pet Keepsake Bracelet in the Twist and Stardust bead combination with Pink (October) crystals, a bright rope toggle clasp and Paw charm. | This is an Ali Style Pet Keepsake Bracelet in the Corrugated with Antiqued Daisies bead combination, Amethyst (February) crystals, a heart toggle clasp, Best Friends heart charm and additonal Paw charm added at the end of the name. |
♥
I'm a Doggie Mom...more specifically an Eskie Mom...to a beautiful American Eskimo named Niko. I love him with all my heart. He's a child with four paws, a bonafide member of the family and spoiled rotten. I treasure his presence in my life every day.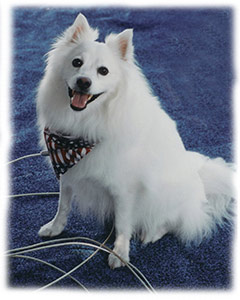 One of the first Mother's bracelets I made was for me with Niko's name and sapphire blue crystals and I love it!
If you or someone in your life is a Doggie Mom or a Kitty Mom, or any kind of pet mom, one of these custom made bracelets would be a special treasured keepsake.
These bracelets are made with Swarovski® crystals and sterling silver. Names are done in 5.8mm sterling silver letter blocks and birthstones are Swarovski® Crystal bicone beads. There are also style options with pearls. There are 12 styles and 90 different bead combinations for you to choose from. You select your favorite combination of beads, the clasp, the charm(s) and the color of the crystals. Birthstones are the most common choice, but you can choose any color you'd like.
Some ideas:
~ your pet's birthstone
~ blue if he's a boy or pink if she's a girl
~ your favorite color
Another popular choice is to have the bracelet made with Crystal Clear or Crystal AB (aurora borealis) crystals and add a coordinating birthstone dangle.
Your bracelet will be custom made for you and will arrive nicely
gift-boxed.
You can get ideas by looking at some of the ones I've made in the Personalized Keepsake Bracelets Gallery.
There are also other Keepsake Bracelet designs available:
Personalized Keepsake Bracelets
Couples Keepsake Bracelets
Family Keepsake Bracelets
and
Generations Keepsake Bracelets
♥
Pricing
Prices vary depending what Bracelet Design, Bead Style and Bead Combination you choose, and how many strands you want your bracelet to have.
Click here to bring up a complete price list for the
Personalized Name, Pet, Family and Generations Keepsake Bracelets.
(Other designs have their own price lists.)
♥
* To Designs by Debi ArtFire Studio for purchase *
(This will bring you to the Pet Keepsake Bracelets section of my Studio.)
I put together a guide with step-by-step instructions for designing and ordering your bracelet. You can find it here.
If you have any additional questions about pricing, ordering or if you would find it easier to send me your order by e-mail, please contact me. I'll be glad to help.
♥
Sterling Silver Bead Choices:
There are too many to list here, but there's a whole page set up with a picture and name for every bead style so you can easily choose your favorite. You can find it here.
♥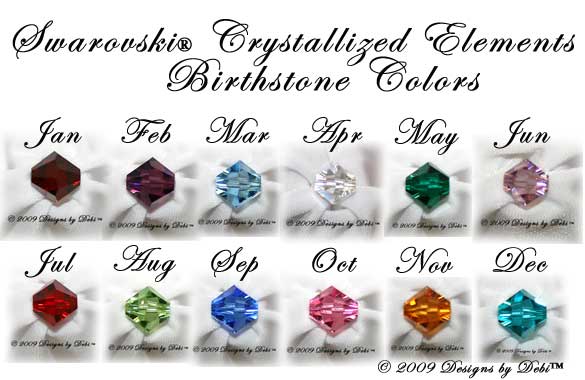 ♥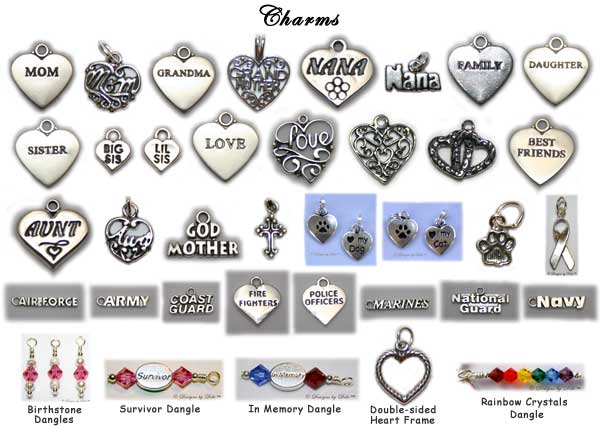 (Click image to enlarge.)
1 Silver Charm from the first 4 rows is included in the price
Additional Silver Charms are $8.00 each
Double-sided Heart Frame Charm ~ additional $10.00
Fee to do photos (crop, re-size, laminate, insert) ~ $4.00
Other options:
Coordinating Birthstone Dangles ~ $3.00 each
'Survivor' Dangle with matching crystals ~ $10.00 each
'In Memory' Dangle with matching crystals ~ $10.00 each
Rainbow Crystals Dangles ~ $5.00
* Charm special requests are welcome *
♥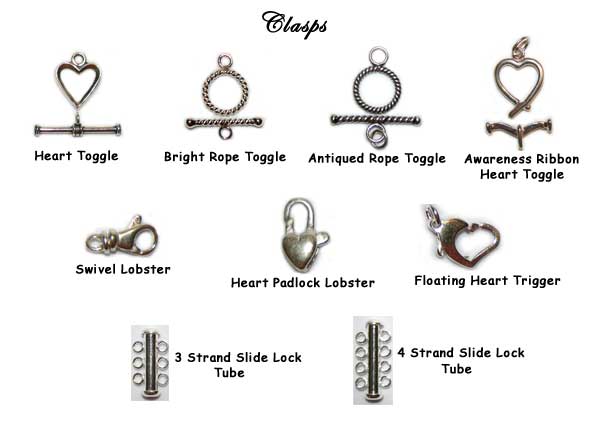 (Click image to enlarge.)
♥
I also offer Rainbow Bridge Pet Memorial Bracelets™ for those who have lost a beloved pet. They come in two basic styles, one with rainbow colored crystals and the other has the same style options as the Pet Keepsake Bracelets above. You can find them on the
Rainbow Bridge Pet Memorial Bracelets™ page.
♥
If you already have a Pet Keepsake Bracelet and your pet passes away, you can order just the rainbow crystals dangle to add to the bracelet. It will come on a split ring (like a key ring only much smaller) so you can put it on one of the loops near the clasp.

$5.00
* To Designs by Debi ArtFire Studio for purchase *
♥
Return to Personalized Keepsake Bracelets Boutique
Return to Bracelet Boutique
Return to Handmade Jewelry Boutique
Return to Designs by Debi Handmade Jewelry Home Page
♥ ♥ ♥ ♥ ♥ ♥ ♥ ♥ ♥ ♥ ♥ ♥ ♥
For the time being, purchases of Designs by Debi jewelry, accessories and novelties will be completed through my ArtFire Studio. Links in each item description and on each specialty item page will open the studio in a new window so you can place desired items in the shopping cart. Purchasing through ArtFire is safe, quick and easy and you do not need to have an account with ArtFire or PayPal. For more information see the FAQ's page. If you see something here that you don't see on ArtFire or you do not want to buy from my ArtFire Studio, contact me and I will work directly with you.
Thank You!
♥ ♥ ♥ ♥ ♥ ♥ ♥ ♥ ♥ ♥ ♥ ♥ ♥