Please pardon the mess while a new website is created to better serve you.
In the meantime, you can purchase some Designs by Debi™ products on Poshmark and on Etsy.
I apologize for the inconvenience.
Sign up for my newsletter to receive updates.
Contact me with any questions.
Thank you.

Lots of great jewelry and gift items are being added onto the website so I've created this page as an easy way for you to keep up with everything going on :)
The first section is for Special Announcements & Messages from Me.
You can go to the What's New in Jewelry? section to find new jewelry that's been added listed by date with the most recent first.
You can go to the What's New in Novelties and Gift Items? section to find other new items.
The What's New in the Reference Center? section will show you a linked list of pages that I've added to that area.
And the What's New on ArtFire? section will keep you up to date with the newest additions to my studio. Items will always show up on ArtFire first because I need to list them there and have them available for you to purchase before I can put them up on the website (and I don't always get it all done the same day).
♥
** Special Tip ** ~ You can make sure you're always the first to know when there are new goodies available by subscribing to the RSS Feeds in my ArtFire Studio and here on the site.
♥
Special Announcements & Messages from Me
24 November 2012
I'm hostiting a Holiday Trunk Show on Facebook this weekend... from Small Business Saturday 11/24 until Cyber Monday at 11pm. In addition to re-aligning and narrowing the focus of Designs by Debi, I'm planning a huge relocation for 2013. To show my appreciation for your business and support, I decided to start my Inventory Reduction Sales now so you can save on your holiday shopping.
I didn't realize how MUCH jewelry I made never got listed online! I don't want to pay to move it all so there will be A LOT of items available for you to choose from :) There are over 150 items in this show!! I'm running it in auction format so there are Buy Now and Starting Bid prices listed. Bidding on all items starts at 50% (or more) OFF retail. It's a great opportunity to get fabulous gifts for family, friends and yourself and to stock up on Designs by Debi goodies!
Please share the event with your family and friends. Invite as many people as you want from all around the world. I happily ship internationally. Everyone is welcome to join the party!! And I appreciate all shares on your personal and business pages, twitter and anywhere else you'd like to help me spread the word. Thank you!
♥
26 October 2012
Please pardon the dust around here for a few weeks. As you've probably heard, some changes are coming to Designs by Debi. I'm narrowing the focus of my work to what I most enjoy doing. Luckily those happen to be the same things you like best so I'm truly blessed. Thank you!
I also have some new things that I hope you'll enjoy. Most of my work is custom designs and personalized jewelry is quite popular, so I've been working on some new options for personalizing designs that you're going to love!
I'm working hard to get all these goodies ready for you, along with loads of new jewelry in time for your Holiday shopping.
In the meantime, if you don't see what you need, just drop me a line and I'll be glad to help you :)
♥ Debi
28 October 2012
Just in time for Halloween, the October 2012 Jewelry for Charity Set "Haunted Halloween" will benefit Lady Gaga's Born This Way Foundation. Own this set similar to one I just made for Lady Gaga herself! You can read the story on the page :)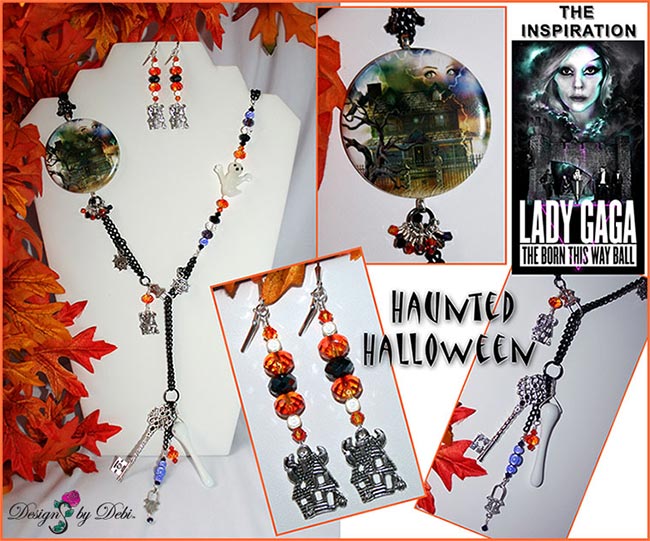 What's New in Novelties and Gift Items?
What's New in the Reference Center?
Return to Designs by Debi Handmade Jewelry Home Page