Please pardon the mess while a new website is created to better serve you.
In the meantime, you can purchase some Designs by Debi™ products on Poshmark and on Etsy.
I apologize for the inconvenience.
Sign up for my newsletter to receive updates.
Contact me with any questions.
Thank you.

To benefit
Lady Gaga's
Born This Way Foundation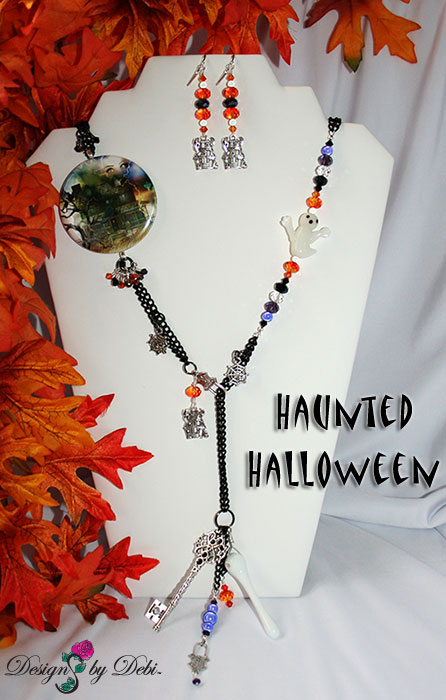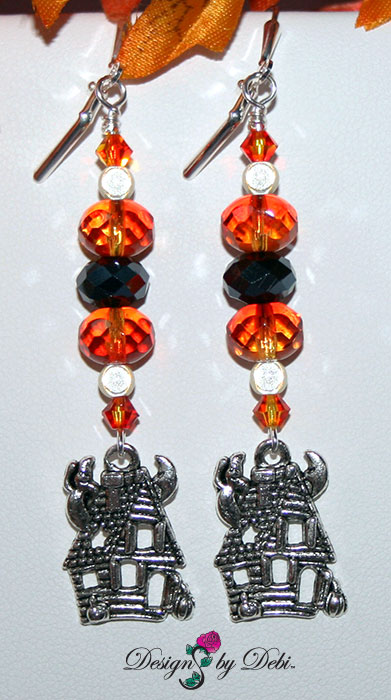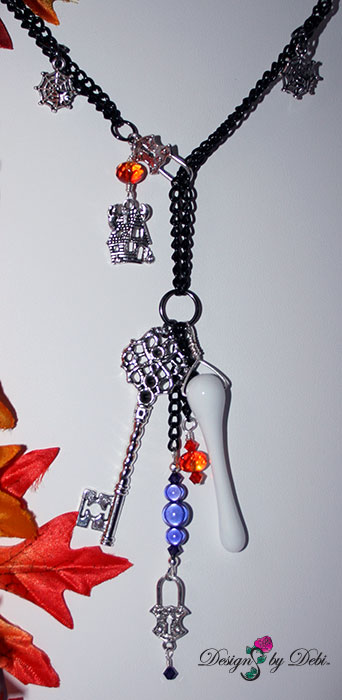 "Haunted Halloween"
Recently I designed a set of jewelry for Lady Gaga's Creative Call for Oddities Halloween Event. I love Lady Gaga so this was an amazing opportunity for me!! Her request for the event was "Think outside the box... outside the hemisphere. Things that make me go WOW!!" so it gave me a chance to design something really artsy and indulge my creative side even more than usual. Here is a collage of the jewelry set I designed and the image that inspired it...
When I was planning out that design, I decided to make a second, similar but still one-of-a-kind set for my Jewelry for Charity Program to raise money for her Born This Way Foundation. So you have a chance to own a set like the one I made for Lady Gaga and they will be the only 2 sets like this that I will ever make.
The set is comprised of a lariat necklace and pair of earrings in a Halloween theme and color scheme with black, orange, gray, purple and white.
The focal point of the necklace is a button with a photo of a haunted house and a girl's eyes peeking through the clouds up above.
The lariat is made from a double strand of black curb chain. I used CRYSTALLIZED™ - Swarovski Elements bicones and faceted crystals in black, black diamond, fire opal and purple velvet; white and purple miracle beads for their eerie glowing effect; a white glass ghost; haunted house and spider web charms; a padlock charm forms the lariat loop and there is another at the very bottom tip of the dangle charm which also includes crystals, miracle beads, a long white glass bone inspired bead pendant and a large, ornate, silver skeleton key.
The earrings are leverback style with fire opal and black crystals, white miracle beads and haunted house charms dangling at the ends.
The donation from the sale of this set will go to Lady Gaga's Born This Way Foundation.
Born This Way Foundation is led by Lady Gaga and her mother, Cynthia Germanotta. It was founded in 2011 in hopes of creating a more accepting society that embraces differences and celebrates individuality.
The three pillars of the Born This Way Foundation are Safety + Skills + Opportunity to create a kinder, braver world.
This global effort starts with empowering young people to promote bravery, tolerance and acceptance. Become part of the Foundation and help create a kinder society.
You can get involved in this awesome initiative in many ways... enlist others by telling friends and family about the cause; tell your story of bravery; read the plan BTWF has for safe environments, tools, skills and resources to bring about change; get inspired; and share your ideas for and join Born Brave Nation, localized youth-led group being formed to bring change to local communities.

To find out more about Born This Way Foundation or to make a donation on your own, go to www.BornThisWayFoundation.org.
To purchase this bracelet and raise money for this charity, click on this link to my ArtFire Studio to purchase it from there or contact me if you wish to make other arrangements. Remember...all Designs by Debi™ Charity Pieces are one-of-a-kind pieces...if you like this set, don't wait...there will never be another one...once it's gone, it's gone forever...
The necklace is a lariat style that slips on over your head. The earrings are 2 3/4 inches long.
$180.00
* To Designs by Debi ArtFire Studio for purchase *
Thank you!!
♥
Note: If you are looking for a traditional style sterling silver and crystal Awareness Bracelet, you can find them on the Awareness Bracelets page. They are available in all colors.
♥
For more information on the Designs by Debi™ Jewelry for Charity Program, check out the Jewelry for Charity page.
Return to Jewelry for Charity
Return to Handmade Jewelry Boutique
Return to Designs by Debi Handmade Jewelry Home Page
♥ ♥ ♥ ♥ ♥ ♥ ♥ ♥ ♥ ♥ ♥ ♥ ♥
For the time being, purchases of Designs by Debi jewelry, accessories and novelties will be completed through my ArtFire Studio. Links in each item description and on each specialty item page will open the studio in a new window so you can place desired items in the shopping cart. Purchasing through ArtFire is safe, quick and easy and you do not need to have an account with ArtFire or PayPal. For more information see the FAQ's page. If you see something here that you don't see on ArtFire or you do not want to buy from my ArtFire Studio, contact me and I will work directly with you.
Thank You!
♥ ♥ ♥ ♥ ♥ ♥ ♥ ♥ ♥ ♥ ♥ ♥ ♥