Due to a death in the family and pending relocation, Designs by Debi will be CLOSED until further notice. I hope to reopen in the Fall 2019. Sorry for the inconvenience. If you want to be notified when I reopen, please sign up for my newsletter. Thank you.

Want to get someone a piece of jewelry they will love, but you just can't decide which one they would most like to have?
Give them a Designs by Debi Gift Certificate. Your jewelry-loving family and friends will love you for it because they're really two gifts in one...the joy of receiving the gift certificate itself and then all the fun of a shopping spree!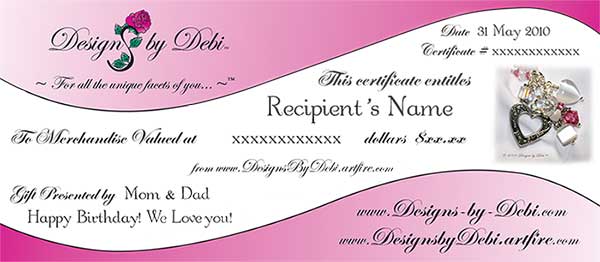 The gift certificate program is administered electronically through my ArtFire Studio so they can only be redeemed online.
You can find the Designs by Debi Gift Certificates Terms and Conditions here. The page includes everything you need to know...how to buy them, your delivery options and how to redeem them.
♥
♥
If you would like a gift certificate in an amount not seen above, contact me and I'll be glad to put up a custom listing for you.
Return to Customer Service
Return to Designs by Debi Handmade Jewelry Home Page
♥ ♥ ♥ ♥ ♥ ♥ ♥ ♥ ♥ ♥ ♥ ♥ ♥
For the time being, purchases of Designs by Debi jewelry, accessories and novelties will be completed through my ArtFire Studio. Links in each item description and on each specialty item page will open the studio in a new window so you can place desired items in the shopping cart. Purchasing through ArtFire is safe, quick and easy and you do not need to have an account with ArtFire or PayPal. For more information see the FAQ's page. If you see something here that you don't see on ArtFire or you do not want to buy from my ArtFire Studio, contact me and I will work directly with you.
Thank You!
♥ ♥ ♥ ♥ ♥ ♥ ♥ ♥ ♥ ♥ ♥ ♥ ♥