Please pardon the mess while a new website is created to better serve you.
In the meantime, you can purchase some Designs by Debi™ products on Poshmark and on Etsy.
I apologize for the inconvenience.
Sign up for my newsletter to receive updates.
Contact me with any questions.
Thank you.

To benefit
Autism Speaks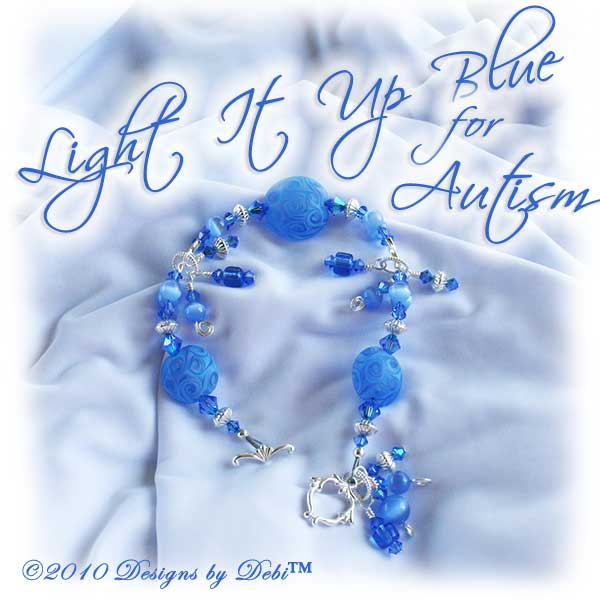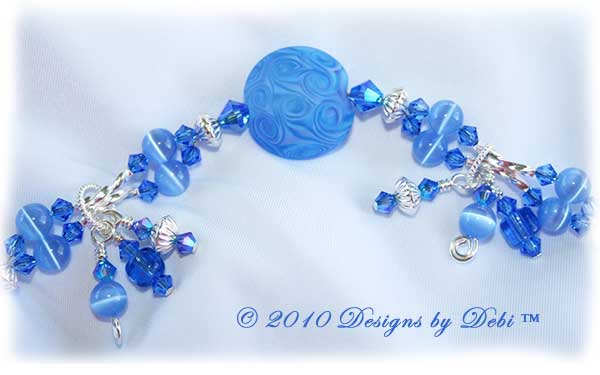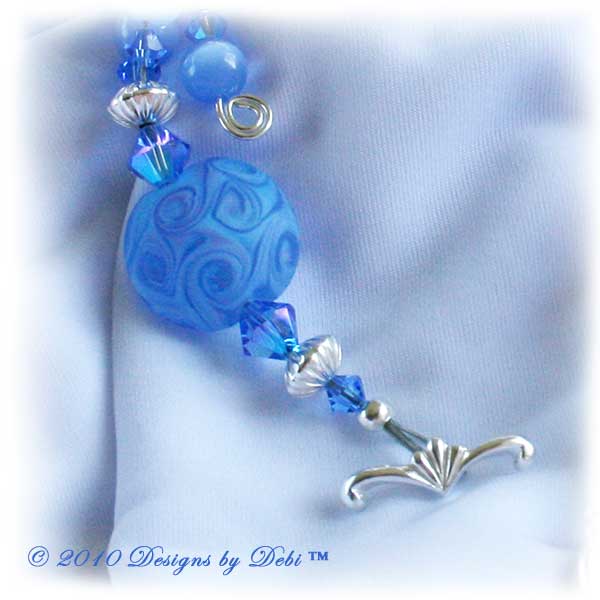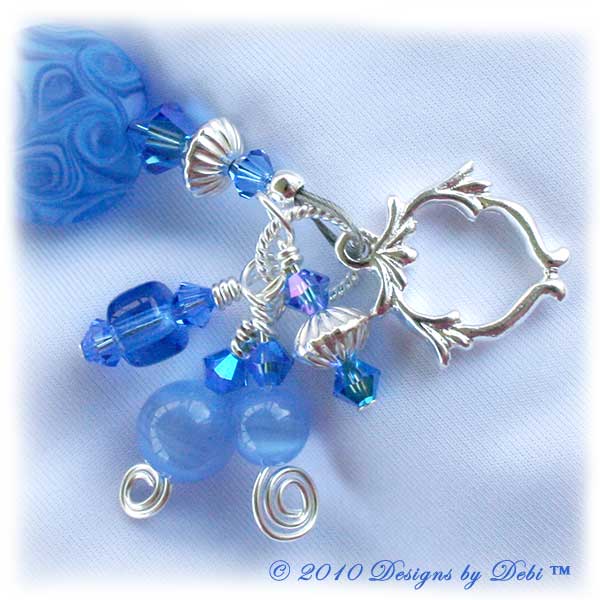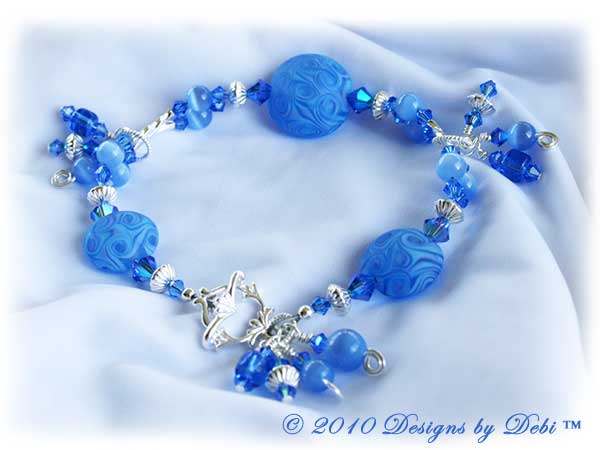 "Light It Up Blue for Autism"
I began this piece with mesmerizing artisan lampwork beads handmade by Glenn Mincey of Benton City, Washington. They are lentil shaped beads in beautiful shades of blue with a swirl pattern, hint of violet and etched for an awesome glowing effect.
Swarovski Crystal sapphire AB2x bicones twinkling with hints of violet are a perfect match and are used throughout the piece along with sapphire bicones. Sapphire blue cat's eye beads, that change hue as they capture and reflect light, are interlaced with them along the 2 strands of the bracelet. Bright sterling Silver twisted double tubes and corrugated saucer beads were also used. I made lots of dangling charms with cat's eye, crystals, blue glass and silver saucers incorporating a spiral twist on some to coordinate with the pattern of the beads and hung them from sterling silver twisted rings. The bracelet finishes with an abstract sterling silver toggle clasp.
The charity I've chosen for this month, to receive the donation from this piece, is Autism Speaks. April is Autism Awareness Month. The Awareness Ribbon for Autism is a puzzle pattern in purple, blue, red and yellow and, although the colors do not match, if Autism is a cause that is special to you I can add the Awareness Ribbon charm to the bracelet at no charge. I decided to go with a blue color scheme in honor of Autism Speaks' Light It Up Blue Campaign. On the night of April 1, prominent buildings across North America and the world including the Empire State Building in New York City and the CN Tower in Toronto, Canada will be lit up blue to raise awareness for autism and to commemorate World Autism Awareness Day on Friday, April 2. Their goal is to light the world blue ­ city by city, town by town ­ to raise awareness about autism in our communities. So this is my way to "Light it up Blue." If you'd like ideas of how you can light it up blue, visit www.LightItUpBlue.org.
Autism, part of a group of disorders known as autism spectrum disorders (ASD), is a complex neurobiological disorder that typically lasts throughout a person's lifetime. It is characterized by varying degrees of impairment in communication skills and social abilities, and by repetitive behaviors. Symptoms range from mild to severe. It affects the way a child perceives the world and makes communication and social interaction difficult. Autism affects 1 in 110 children and these numbers are growing by 10% - 17% annually. An estimated 1.5 million individuals in the U.S. and tens of millions worldwide are affected by autism. There is no medical detection or cure for autism and its cause is not known.
Autism Speaks was founded in February 2005 by Bob and Suzanne Wright, grandparents of a child with autism. Since then, Autism Speaks has established affiliate chapters in the United Kingdom and the Middle East and has grown into the nation's largest autism science and advocacy organization, dedicated to funding research into the causes, prevention, treatments and a cure for autism; increasing awareness of autism spectrum disorders; and advocating for the needs of individuals with autism and their families.
To find out more about Autism Speaks or to make a donation on your own, go to www.AutismSpeaks.org.
To purchase this bracelet and raise money for this very worthy cause, click on this link to my ArtFire Studio to purchase it from there or contact me if you wish to make other arrangements. Remember...all Designs by Debi™ Charity Pieces are one-of-a-kind pieces...if you like this bracelet, don't wait...there will never be another one...once it's gone, it's gone forever...
The bracelet measures 9 inches and will fit a 6 3/4 inch (very loosely) to 7 1/2 inch wrist. If you need the bracelet re-sized, please let me know at time of purchase and this can be done prior to shipment at no additional charge.
$150.00
* To Designs by Debi ArtFire Studio for purchase *
Thank you!!
♥
For more information on the Designs by Debi™ Jewelry for Charity Program, check out the Jewelry for Charity page.
Note: If you are looking for a traditional style sterling silver and Swarovski crystal Awareness Bracelet, they are available for custom order in all colors. Please see the Awareness Bracelets page.
Return to Jewelry for Charity
Return to Handmade Jewelry Boutique
Return to Designs by Debi Handmade Jewelry Home Page
♥ ♥ ♥ ♥ ♥ ♥ ♥ ♥ ♥ ♥ ♥ ♥ ♥
For the time being, purchases of Designs by Debi jewelry, accessories and novelties will be completed through my ArtFire Studio. Links in each item description and on each specialty item page will open the studio in a new window so you can place desired items in the shopping cart. Purchasing through ArtFire is safe, quick and easy and you do not need to have an account with ArtFire or PayPal. For more information see the FAQ's page. If you see something here that you don't see on ArtFire or you do not want to buy from my ArtFire Studio, contact me and I will work directly with you.
Thank You!
♥ ♥ ♥ ♥ ♥ ♥ ♥ ♥ ♥ ♥ ♥ ♥ ♥