Please pardon the mess while a new website is created to better serve you.
In the meantime, you can purchase some Designs by Debi™ products on Poshmark and on Etsy.
I apologize for the inconvenience.
Sign up for my newsletter to receive updates.
Contact me with any questions.
Thank you.

To benefit
Friends of Keri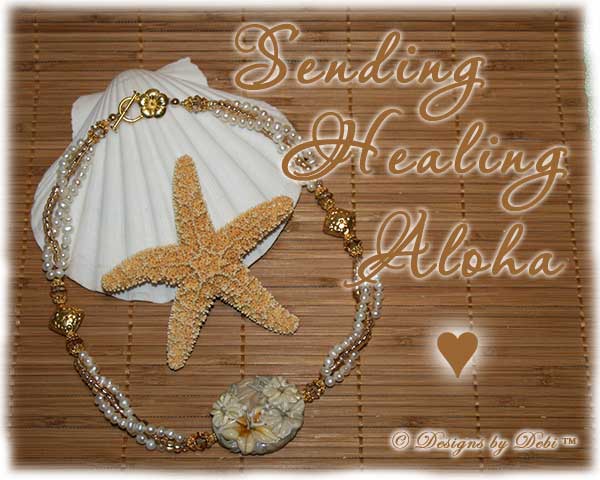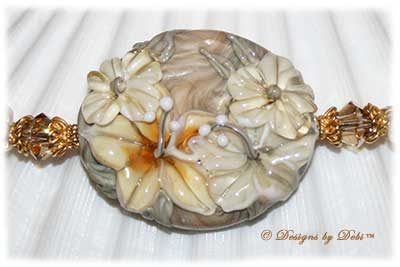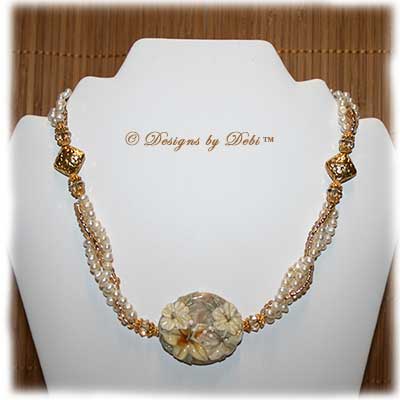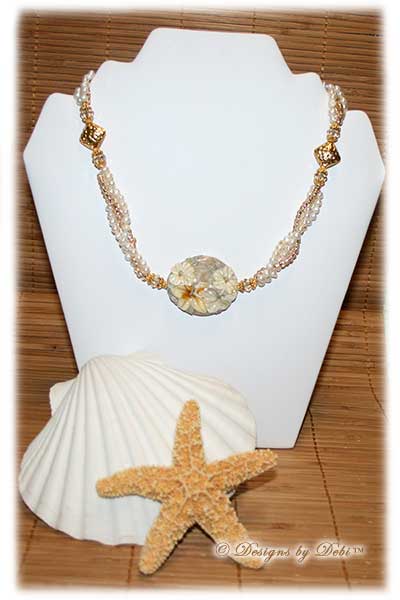 "Sending Healing Aloha"
I decided, for the first time, to do a necklace for the monthly charity piece. The centerpiece of the necklace is a gorgeous hibiscus focal in shades of cream, pale yellow, beige and topaz handmade by Susan Elliot of Doodletart Glass.
To accent the colors of this amazing bead, I used Swarovski Crystal Golden Shadow bicones and twisted lengths of white freshwater pearls and shimmery, creamy golden seed beads. I opted for gold beads and findings and used some beautiful gold vermeil embossed floral diamond-shaped pillow beads handmade by metalsmiths in Bali, Indonesia, gold vermeil swirled bead caps and a gold vermeil hibiscus toggle clasp.
The charity I've chosen to receive the donation from this month's piece is Friends of Keri. Keri (McDuff) Bosworth was a high school friend of mine. Last summer, on June 26th, Keri slipped, fell into a swimming pool and broke her neck. She was airlifted to Beth Israel Hospital in Boston and underwent hours of surgery. Luckily, she did not sever her spinal cord. But she did end up paralyzed from the chest down with only limited movement of her shoulders and arms. Keri spent weeks in the hospital and subsequently many more weeks at Spaulding Rehabilitation Hospital in Boston.
Life changed fast for Keri, her husband, Kevin, and their 2 children, Kyle and Paige. Keri needs nursing care, physical therapy, a specially equipped van to get to rehab and their house has had to be outfitted with ramps and other equipment necessary for Keri to function. As you can imagine, the medical bills and cost of converting their house are enormous. Keri's Friends have been holding fundraisers and doing other things to try to help. I decided that Friends of Keri would be my chosen charity for this month. I designed the necklace in shades of cream because that is the color for Spinal Cord Injury Awareness. All the money raised by Friends of Keri goes directly to Keri and her family.
To purchase this necklace and raise money to help Keri and her family, click on this link to my ArtFire Studio to purchase it from there or contact me if you wish to make other arrangements. Remember...all Designs by Debi™ Charity Pieces are one-of-a-kind pieces...if you like this necklace, don't wait...there will never be another one...once it's gone, it's gone forever...
The necklace measures 18 1/4 inches from end to end.
$210.00
* To Designs by Debi ArtFire Studio for purchase *
Thank you!!
♥
Note: If you are looking for a traditional style sterling silver and crystal Awareness Bracelets, you can find them on the Awareness Bracelets page. They are available in all colors.
♥
For more information on the Designs by Debi™ Jewelry for Charity Program, check out the Jewelry for Charity page.
Return to Jewelry for Charity
Return to Handmade Jewelry Boutique
Return to Designs by Debi Handmade Jewelry Home Page
♥ ♥ ♥ ♥ ♥ ♥ ♥ ♥ ♥ ♥ ♥ ♥ ♥
For the time being, purchases of Designs by Debi jewelry, accessories and novelties will be completed through my ArtFire Studio. Links in each item description and on each specialty item page will open the studio in a new window so you can place desired items in the shopping cart. Purchasing through ArtFire is safe, quick and easy and you do not need to have an account with ArtFire or PayPal. For more information see the FAQ's page. If you see something here that you don't see on ArtFire or you do not want to buy from my ArtFire Studio, contact me and I will work directly with you.
Thank You!
♥ ♥ ♥ ♥ ♥ ♥ ♥ ♥ ♥ ♥ ♥ ♥ ♥