Please pardon the mess while a new website is created to better serve you.
In the meantime, you can purchase some Designs by Debi™ products on Poshmark and on Etsy.
I apologize for the inconvenience.
Sign up for my newsletter to receive updates.
Contact me with any questions.
Thank you.

To benefit
The Donald Paterson Recovery Fund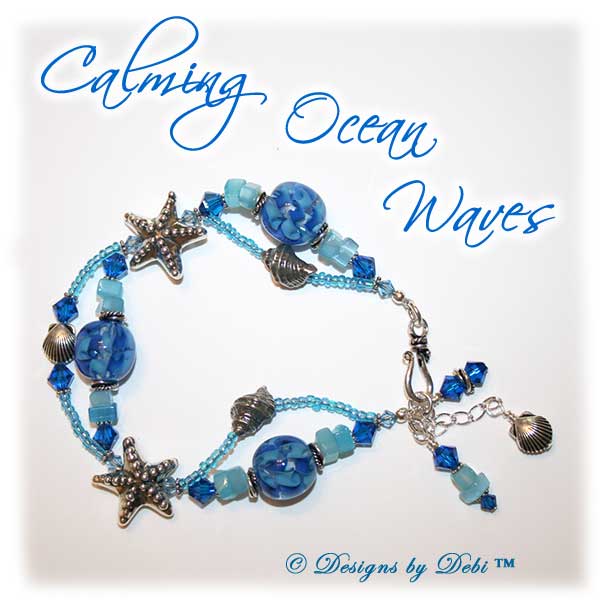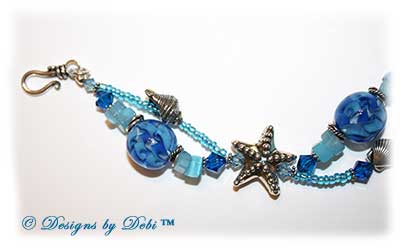 "Calming Ocean Waves"
I love to design beachy summer pieces so here's another one!
I began this one with some intriguing artisan lampwork beads handmade by Bill Grout of Aspen Hot Glass Studio in Corvallis, MT. These round beads with their ribbons of light and dark blue remind me of waves rolling onto the shore. I surrounded his beads with light blue cat's eye chips to look like sea glass and used coordinating Swarovski crystal bicones in capri blue and aquamarine.
The two other main beads in the piece are Thai Hill Tribe silver starfish, handmade by silversmiths in Thailand. Sterling silver conch shells and TierraCast silver scallop shells continue the beach theme, woven in waves along with tiny aqua seed beads. You'll find Bali silver spacers throughout the piece and it is finished with a Bali Silver Hook and Eye Clasp. I added a 1 inch sterling silver extender chain for you to adjust the fit. A shell bead hangs at the end of the chain and there are 2 more dangles hanging along as well.
I usually select nationally recognized charities to receive the donations from my monthly charity pieces, but I hope you don't mind this month will be a bit different. This month's piece is being sold to help a man in my community. His name is Donald Paterson. On
April 24th his life was forever changed when he was walking home from the L'il General Store and a 16 year old boy snuck up behind him and stabbed him in the back for no apparent reason. This 74 year old man who had been the picture of health was, in a split second, left a paraplegic, confined to a wheelchair in excrutiating pain. The slightest touch to his legs feels like an intense blow because the nerves in his legs are in a constant state of high alert; his spinal cord was severed so he cannot use his legs, but he hasn't lost all feeling in them.
He and his wife, Trudy, were very active retirees. They spent free time practicing and playing in billiards tournaments and were very active grandparents. That has all changed. No more shooting pool, no more running and playing with grandchildren; they couldn't even go back to their home because Donald is now confined to a wheelchair. Now it's just visits from home care nurses, trips to the doctor and adjusting to their drastically changed lives. And, as if having their lives turned upside down and inside out wasn't enough, this
out-of-the-blue, senseless tragedy has left them with an overwhelming pile of medical bills; the initial hospital stay alone upwards of $50,000.
A fundraiser was held and a fund established to help the Patersons with their medical bills. The donation from this month's piece will go to that fund, The Donald Paterson Recovery Fund. If you would like to make a donation on your own, you can send it directly to:
Donald Paterson Recovery Fund
c/o Citizens Bank
191 Social Street
Woonsocket, RI 02895
To purchase this bracelet and raise money to help Donald, click on this link to my ArtFire Studio to purchase it from there or contact me if you wish to make other arrangements. Remember...all
Designs by Debi™ Charity Pieces are one-of-a-kind pieces...if you like this bracelet, don't wait...there will never be another one...once it's gone, it's gone forever...
The bracelet measures 10 1/2 inches end to end including the extender and will fit a 6 1/4 inch (very loosely, but secure) or larger wrist. If you need the bracelet re-sized, please let me know at time of purchase and this can be done prior to shipment at no additional charge.
$150.00
* To Designs by Debi ArtFire Studio for purchase *
Thank you!!
♥
For more information on the Designs by Debi™ Jewelry for Charity Program, check out the Jewelry for Charity page.
Return to Jewelry for Charity
Return to Handmade Jewelry Boutique
Return to Designs by Debi Handmade Jewelry Home Page
♥ ♥ ♥ ♥ ♥ ♥ ♥ ♥ ♥ ♥ ♥ ♥ ♥
For the time being, purchases of Designs by Debi jewelry, accessories and novelties will be completed through my ArtFire Studio. Links in each item description and on each specialty item page will open the studio in a new window so you can place desired items in the shopping cart. Purchasing through ArtFire is safe, quick and easy and you do not need to have an account with ArtFire or PayPal. For more information see the FAQ's page. If you see something here that you don't see on ArtFire or you do not want to buy from my ArtFire Studio, contact me and I will work directly with you.
Thank You!
♥ ♥ ♥ ♥ ♥ ♥ ♥ ♥ ♥ ♥ ♥ ♥ ♥