Please pardon the mess while a new website is created to better serve you.
In the meantime, you can purchase some Designs by Debi™ products on Poshmark and on Etsy.
I apologize for the inconvenience.
Sign up for my newsletter to receive updates.
Contact me with any questions.
Thank you.

To benefit
The Aplastic Anemia and MDS Foundation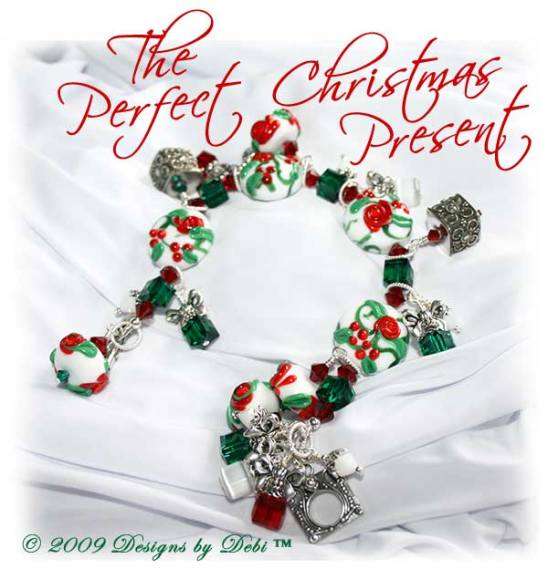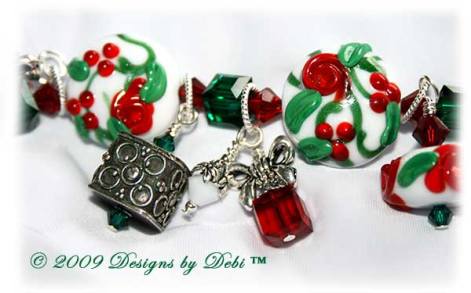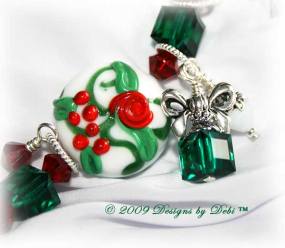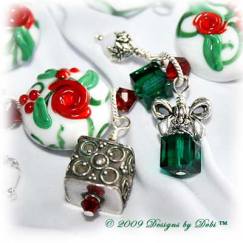 "The Perfect Christmas Present"
I began this piece with some festive artisan lampwork beads handmade by Mary Bush of Honey Bear Beads. These include lentil beads with red roses, holly berries, green leaves and green scrolls layered atop a snow white base along with the matching red rose rondelles.
Fine silver cube beads, bead caps and a toggle handmade by silversmiths in Bali, Indonesia complement her beads beautifully. Swarovski® crystal cubes and bicones in emerald, siam and white alabaster are used throughout the piece. Emerald and siam crystal and white cat's eye cubes were used along with TierraCast® bow beads to make the present charms that hang cheerily from twisted jump rings. Look closely and you'll notice small pointsettia bead caps on the white alabaster bicones dangling along the length of the bracelet. All together...a perfect holiday treasure sure to bring lots of Christmas cheer!
The charity I've selected to receive the donation from this piece is the Aplastic Anemia Foundation. December is Aplastic Anemia Awareness Month. I've chosen this charity because my best friend's daughter, Kailey, has aplastic anemia. She and her family, along with millions of others, live with the daily challenges and serious health scares that it brings. When you have a child afflicted with a disease resulting in life-threatening situations on a regular basis, you truly come to realize what a precious gift life is and you are grateful for every day. Aplastic anemia, diagnosed most frequently in children and young adults, is a bone marrow failure disease occuring when bone marrow doesn't make enough blood-forming stem cells. The treatment is stem cell transplantation for those having a matched sibling donor; and immunosuppressive therapy for those who do not. The disease presents an ongoing challenge for those affected and their families. The Aplastic Anemia and MDS International Foundation, Inc. has been fighting bone marrow failure diseases through patient support and research since 1983.
To find out more about the Aplastic Anemia and MDS Foundation or to make a donation on your own, go to www.aamds.org.
To purchase this bracelet and raise money for this very worthy cause, click on this link to my ArtFire Studio to purchase it from there or contact me if you wish to make other arrangements. Remember...all Designs by Debi™ Charity Pieces are one-of-a-kind pieces...if you like this bracelet, don't wait...there will never be another one...once it's gone, it's gone forever...
The bracelet measures 8 3/4 inches and will fit a 6 1/4 inch (very loosely) to 7 inch wrist. If you need the bracelet re-sized, please let me know at time of purchase and this can be done prior to shipment at no additional charge.
$300.00
* To Designs by Debi ArtFire Studio for purchase *
Thank you!!
♥
For more information on the Designs by Debi™ Jewelry for Charity Program, check out the Jewelry for Charity page.
Note: If you are looking for a traditional style sterling silver and Swarovski crystal Awareness Bracelet, they are available for custom order in all colors. Please see the Awareness Bracelets page.
Return to Jewelry for Charity
Return to Handmade Jewelry Boutique
Return to Designs by Debi Handmade Jewelry Home Page
♥ ♥ ♥ ♥ ♥ ♥ ♥ ♥ ♥ ♥ ♥ ♥ ♥
For the time being, purchases of Designs by Debi jewelry, accessories and novelties will be completed through my ArtFire Studio. Links in each item description and on each specialty item page will open the studio in a new window so you can place desired items in the shopping cart. Purchasing through ArtFire is safe, quick and easy and you do not need to have an account with ArtFire or PayPal. For more information see the FAQ's page. If you see something here that you don't see on ArtFire or you do not want to buy from my ArtFire Studio, contact me and I will work directly with you.
Thank You!
♥ ♥ ♥ ♥ ♥ ♥ ♥ ♥ ♥ ♥ ♥ ♥ ♥