Please pardon the mess while a new website is created to better serve you.
In the meantime, you can purchase some Designs by Debi™ products on Poshmark and on Etsy.
I apologize for the inconvenience.
Sign up for my newsletter to receive updates.
Contact me with any questions.
Thank you.

To benefit
The American Heart Association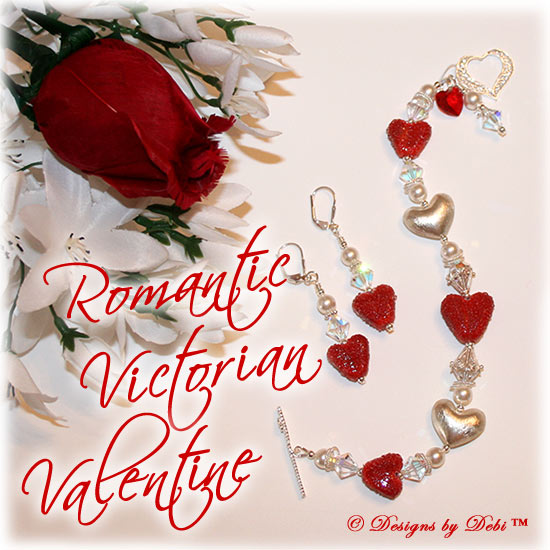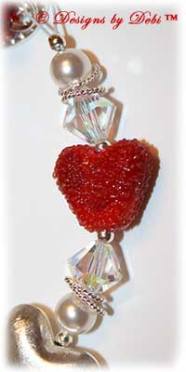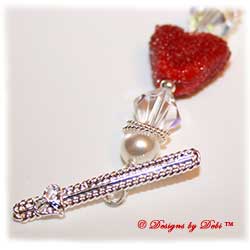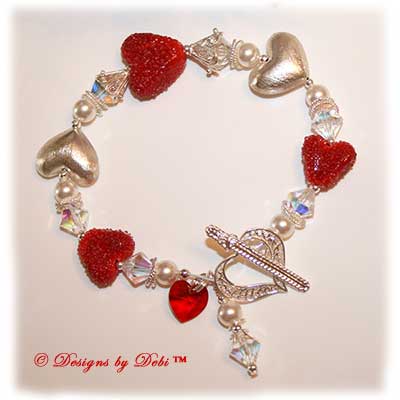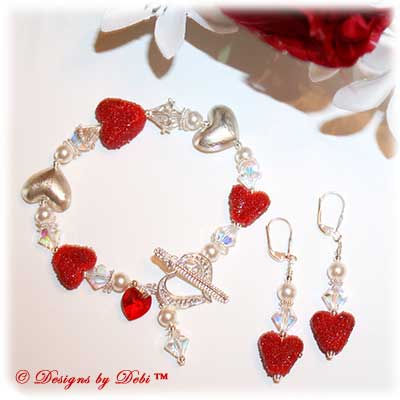 "Romantic Victorian Valentine"
It's American Heart Month and Valentine's Day is coming so I decided to make a set of jewelry with a heart theme. I began with some artisan lampwork beads handmade by Joyce O'Shea of Lampwork by Joyce. They're heart-shaped red beads with a sugar-like texture.
The center heart bead is capped with elegant sterling silver cone caps. I also used brushed sterling silver heart beads handmade by silversmiths in Bali, Indonesia. In between the heart beads you'll find beautiful Swarovski® Crystal AB (aurora borealis) bicone beads, white Swarovski® pearls and some floating sterling silver twisted rings. The bracelet closes with a delicate filigree heart toggle clasp. And hanging near the clasp are a red Swarovski® crystal heart and a coordinating dangle charm that has 2 sterling silver hearts hiding sweetly in between the pearl and crystal.
The earrings are leverback style and were made with the same glass beads, Swarovski® crystals and pearls.
The charity I've chosen to receive the donation from this month's jewelry set is the American Heart Association.
Heart disease is the number 1 cause of death for both men and women. In America, there's a heart-disease related death approximately every 39 seconds. The good news is that by making healthy lifestyle changes you can significantly lower your risk.
The American Heart Association and its family of websites offer a wealth of information on changes you can make to decrease your risk of heart disease. They also offer various tools to assess your risk and help you lower it. You can find tons of educational materials, articles, tips, heart-healthy recipes and so much more to help you on your journey to a healthier lifestyle.
The American Heart Association provides funding for research into the causes, diagnosis and treatment of heart disease and stroke.
To find out more about the American Heart Association or to make a donation on your own, go to www.AmericanHeart.org.
To purchase this bracelet and raise money for this very worthy cause, click on the link to my ArtFire Studio to purchase it from there or contact me if you wish to make other arrangements. Remember...all Designs by Debi™ Charity Pieces are one-of-a-kind pieces...if you like this jewelry set, don't wait...there will never be another one...once it's gone, it's gone forever...
The earrings are 2 1/8 inches long. The bracelet measures 8 inches long and will fit a 6 inch (loosely) to 6 3/4 inch wrist. If you need the bracelet re-sized, please let me know at time of purchase and this can be done prior to shipment at no additional charge.
$165.00
* To Designs by Debi ArtFire Studio for purchase *
Thank you!!
Note: If you are looking for a traditional style sterling silver and crystal Awareness Bracelet, you can find them on the Awareness Bracelets page. They are available in all colors.
♥
For more information on the Designs by Debi™ Jewelry for Charity Program, check out the Jewelry for Charity page.
Return to Jewelry for Charity
Return to Handmade Jewelry Boutique
Return to Designs by Debi Handmade Jewelry Home Page
♥ ♥ ♥ ♥ ♥ ♥ ♥ ♥ ♥ ♥ ♥ ♥ ♥
For the time being, purchases of Designs by Debi jewelry, accessories and novelties will be completed through my ArtFire Studio. Links in each item description and on each specialty item page will open the studio in a new window so you can place desired items in the shopping cart. Purchasing through ArtFire is safe, quick and easy and you do not need to have an account with ArtFire or PayPal. For more information see the FAQ's page. If you see something here that you don't see on ArtFire or you do not want to buy from my ArtFire Studio, contact me and I will work directly with you.
Thank You!
♥ ♥ ♥ ♥ ♥ ♥ ♥ ♥ ♥ ♥ ♥ ♥ ♥