Please pardon the mess while a new website is created to better serve you.
In the meantime, you can purchase some Designs by Debi™ products on Poshmark and on Etsy.
I apologize for the inconvenience.
Sign up for my newsletter to receive updates.
Contact me with any questions.
Thank you.

To benefit
Feeding America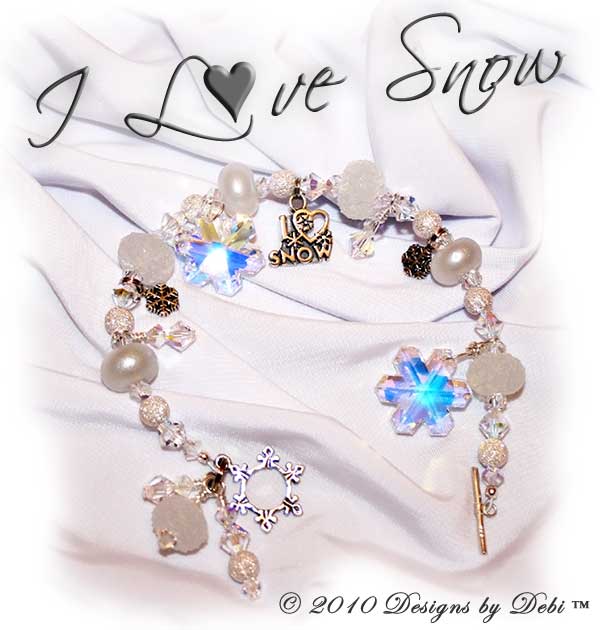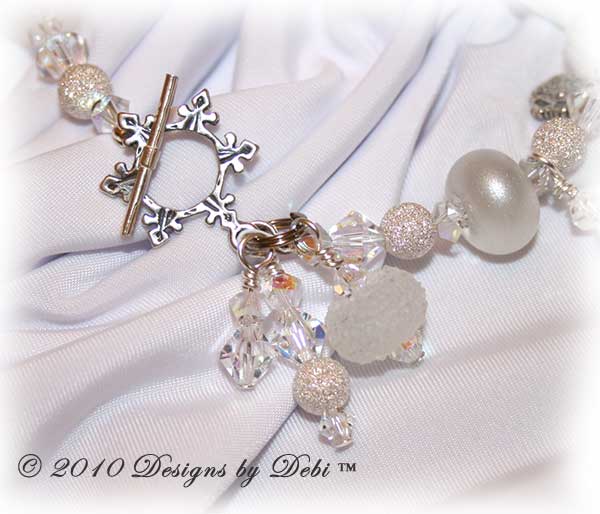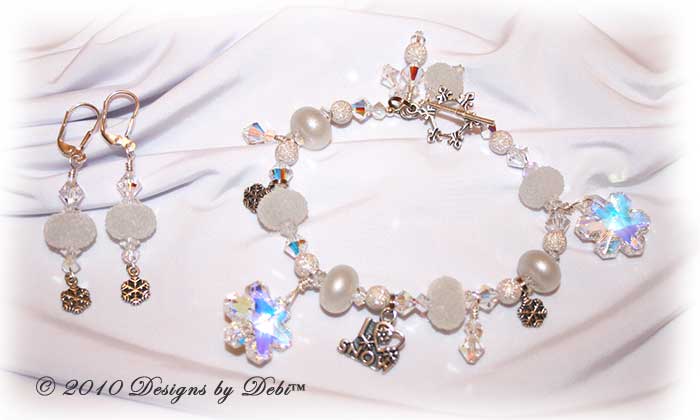 "I L♥ve Snow"
January is Poverty in America Awareness Month. The awareness ribbon color for poverty is white and, as is typical for January, our world is VERY white here in New England right now! So I decided that a white, snow-themed set of jewelry would be just the thing for this month's Jewelry for Charity. Ironically as you may know, I absolutely HATE snow...but I do love white AND those twinkling Swarovski® crystals so creating this set was great fun!!
I began the pieces with some beautiful, snowy artisan lampwork beads handmade by Saskia McKenzie of Bits & Baubles in
New Bern, NC. These sugared snowballs and white pixie dust beads were perfect. I included sterling silver stardust beads to add to the snowy effect.
Sterling silver "I ♥ Snow" and dainty little snowflake charms hang playfully along the length of the bracelet. There are also 2 shimmering Swarovski® Crystal AB (aurora borealis) snowflakes for you to enjoy. Swarovski® Crystal AB bicone and simplicity crystals are used throughout the pieces, mimicking how sunlight glistens on white snow. The bracelet closes with a snowflake toggle clasp and three dangles hang near it to add to the fun.
The sterling silver leverback earrings were made with the snowball beads, Swarovski® Crystal AB crystals in various shapes and sizes and they have those same dainty little sterling silver snowflakes dangling from the bottom. A great set for anyone...those of you who truly love snow and those who just love to look at it without all that cold...and shoveling :)
The charity I've selected to receive the donation from this set of jewelry is Feeding America. I am a huge fan of The Biggest Loser (shout out to Bob, Jillian and Ali...you guys are the best!!...keep up the great work!!) and it was through The Biggest Loser's Pound for Pound Challenge that I first heard of Feeding America and the important work they do.
Feeding America is the nation's leading domestic hunger-relief charity. They have a network of more than 200 food banks serving all 50 states, the District of Columbia and Puerto Rico and through this network they provide food to more than 25 million people each year. Every dollar donated to Feeding America helps provide 9 pounds of food and grocery products to men, women and children facing hunger in our country.
Hunger is a reality for many Americans...one in eight...in every community, even in our own backyards. It isn't only a problem for those struggling with poverty or homelessness; college-educated, working adults and their families are dealing with hunger every day.
I chose a food charity in honor of Poverty in America Awareness Month because nourishment and nutrition are necessary for the proper physical, cognitive and behavioral growth of children and vital to everyone's health. Without our health, we have nothing. And having the nutrition and energy from food is a necessary building-block for anyone to even attempt to free themselves from a life of poverty. Let's help each other. We are the most powerful nation in the world...poverty should not exist here.
To find out more about Feeding America or to make a donation on your own, go to www.FeedingAmerica.org. And if you think you know the facts about hunger in America, take their Hunger Quiz ...the facts may surprise you!
To purchase this jewelry set and raise money for this very worthy cause, click on this link to my ArtFire Studio to purchase it from there or contact me if you wish to make other arrangements. Remember...all Designs by Debi™ Charity Pieces are one-of-a-kind pieces...if you like this set, don't wait...there will never be another one...once it's gone, it's gone forever...
The bracelet measures 8 1/4 inches and will fit a 5 3/4 inch (very loosely) to 6 1/4 inch wrist. The earrings are 2 1/8 inches long. If you need the bracelet re-sized, please let me know at time of purchase and this can be done prior to shipment at no additional charge.
$250.00
* To Designs by Debi ArtFire Studio for purchase *
Thank you!!
♥
For more information on the Designs by Debi™ Jewelry for Charity Program, check out the Jewelry for Charity page.
Note: If you are looking for a traditional style sterling silver and Swarovski crystal Awareness Bracelet, they are available for custom order in all colors. Please see the Awareness Bracelets page.
Return to Jewelry for Charity
Return to Handmade Jewelry Boutique
Return to Designs by Debi Handmade Jewelry Home Page
♥ ♥ ♥ ♥ ♥ ♥ ♥ ♥ ♥ ♥ ♥ ♥ ♥
For the time being, purchases of Designs by Debi jewelry, accessories and novelties will be completed through my ArtFire Studio. Links in each item description and on each specialty item page will open the studio in a new window so you can place desired items in the shopping cart. Purchasing through ArtFire is safe, quick and easy and you do not need to have an account with ArtFire or PayPal. For more information see the FAQ's page. If you see something here that you don't see on ArtFire or you do not want to buy from my ArtFire Studio, contact me and I will work directly with you.
Thank You!
♥ ♥ ♥ ♥ ♥ ♥ ♥ ♥ ♥ ♥ ♥ ♥ ♥