Please pardon the mess while a new website is created to better serve you.
In the meantime, you can purchase some Designs by Debi™ products on Poshmark and on Etsy.
I apologize for the inconvenience.
Sign up for my newsletter to receive updates.
Contact me with any questions.
Thank you.

To benefit
The Deepwater Horizon Memorial Fund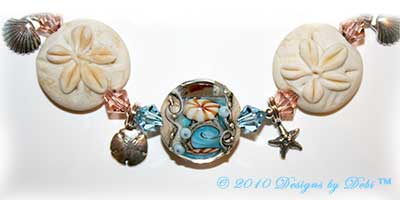 "Seashore"
Summer is here and what could be more appropriate than a wonderful, beachy bracelet for the July Charity Piece?
I began this piece with some exquisite artisan lampwork beads handmade by Catherine Steele of Art With Heart in Cambridge Springs, PA. These lentil-shaped beauties embody the essence of the seashore with their blue and beige wave design and encased sea creatures. There are also three beautiful cream-colored artisan lampwork sand dollar beads that were handmade by Jettone Casey.
In between the lampwork beads you'll find Swarovski crystal bicones in light peach and aquamarine separated by round sterling silver beads. And dangling in these sections along the length of the bracelet are sterling silver beach-themed charms...sand dollars, shells and starfish. Hanging beautifully near the clasp you'll find another sand dollar charm, an artisan lampwork blue swirled bead handmade by Lara Lutrick flanked by aquamarine bicone crystals and a Swarovski aquamarine starfish crystal. I finished the bracelet with a gorgeous Shiana sterling silver sand dollar toggle clasp handmade by silversmiths in Thailand.
It's a wonderful summer piece, and one with an important mission...
We hear every day on the news and in the papers about the "Gulf Oil Disaster" and it truly is a tragedy on so many levels. But something has been really bothering me for the last seventy plus days that this has been all over the news...what about the 11 men who lost their lives? What about the families of those men? Unfortunately the scope of the environmental disaster is so enormous that it has dominated the news coverage and, unfortunately, overshadowed the deaths of those men. They gave their lives doing their jobs...and saving the 115 others lucky enough to be rescued. They have families who love them and will never see them again. They deserve to be remembered...
Jason Anderson, 35, of Midfield, Texas
left behind his wife, Shelley, and 2 children.
Aaron Dale Burkeen, 37, from outside Philadelphia, Mississippi
left behind his wife, Rhonda, and 2 children.
Donald Clark, 49, of Newellton, Louisiana
left behind his wife, Sheila, and 4 children.
Stephen Curtis, 39, of Georgetown, Louisiana
left behind his wife, Nancy, and 2 children.
Gordon Jones, 28, of Baton Rouge, Louisiana
left behind his pregnant wife, Michelle, and a son.
Roy Wyatt Kemp, 27, of Jonesville, Louisiana
left behind his wife, Courtney, and 2 children.
Kark Kleppinger,Jr., 38, of Natchez, Mississippi
left behind his wife, Tracy, and a son.
Keith Blair Manuel, 56, of St Amant, Louisiana
left behind his fiancee, Melinda, and 3 children.
Dewey Revette, 48, of State Line, Mississippi
left behind his wife, Sherri, and 2 children.
Shane Roshto, 22, of Franklin County, Mississippi
left behind his wife, Natalie, and a son.
Adam Weise, 24, of Yorkstown, Texas lost his life as well; he was not married.
In honor of these men and their families, the charity I've chosen to receive the donation from this piece is the Deepwater Horizon Memorial Fund. It was established on behalf of Transocean employees and friends who expressed interest in making financial donations to the families of the 11 lost Deepwater Horizon crew members. Donations to the fund go directly to the families.
To purchase this bracelet and raise money for this very worthy cause, click on this link to my ArtFire Studio to purchase it from there or contact me if you wish to make other arrangements. Remember...all Designs by Debi™ Charity Pieces are one-of-a-kind pieces...if you like this bracelet, don't wait...there will never be another one...once it's gone, it's gone forever...
The bracelet measures 9 1/8 inches and will fit a 6 1/2 inch (very loosely, but secure) to 7 1/2 inch wrist. If you need the bracelet
re-sized, please let me know at time of purchase and this can be done prior to shipment at no additional charge.
$275.00
* To Designs by Debi ArtFire Studio for purchase *
Please remember the families of these men in your prayers.
Thank you!!
♥
For more information on the Designs by Debi™ Jewelry for Charity Program, check out the Jewelry for Charity page.
Return to Jewelry for Charity
Return to Handmade Jewelry Boutique
Return to Designs by Debi Handmade Jewelry Home Page
♥ ♥ ♥ ♥ ♥ ♥ ♥ ♥ ♥ ♥ ♥ ♥ ♥
For the time being, purchases of Designs by Debi jewelry, accessories and novelties will be completed through my ArtFire Studio. Links in each item description and on each specialty item page will open the studio in a new window so you can place desired items in the shopping cart. Purchasing through ArtFire is safe, quick and easy and you do not need to have an account with ArtFire or PayPal. For more information see the FAQ's page. If you see something here that you don't see on ArtFire or you do not want to buy from my ArtFire Studio, contact me and I will work directly with you.
Thank You!
♥ ♥ ♥ ♥ ♥ ♥ ♥ ♥ ♥ ♥ ♥ ♥ ♥