Please pardon the mess while a new website is created to better serve you.
In the meantime, you can purchase some Designs by Debi™ products on Poshmark and on Etsy.
I apologize for the inconvenience.
Sign up for my newsletter to receive updates.
Contact me with any questions.
Thank you.

To benefit
The Brees Dream Foundation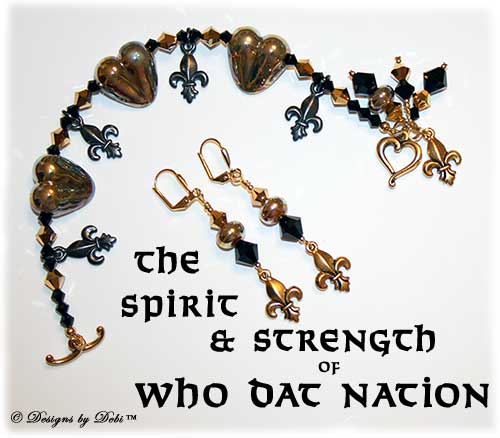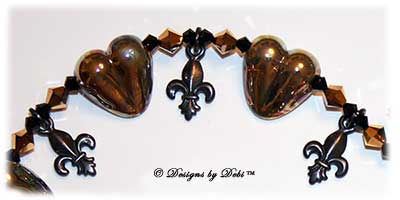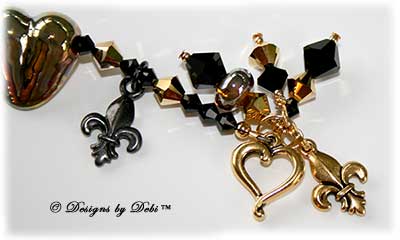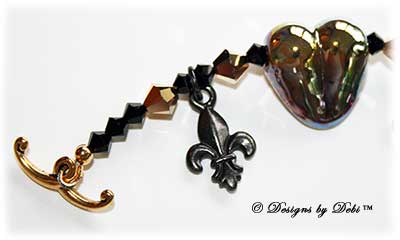 "The Spirit and Strength of Who Dat Nation"
I decided back at the end of April when all the tornadoes and violent storms started hitting across the United States that for the next few months my charity pieces were going to benefit those affected by them. I have a standing invitation for Designs by Debi friends to recommend charities for my Jewelry for Charity Program. Well, I'm happy to say that Nicole from Louisiana took me up on it, asking me to do one for those still suffering the effects of Hurricane Katrina. I thought it was a wonderful idea and asked her which charity helps them the most. So... Thank you Nicole! This month will be for Katrina Victims and the donation will go to The Brees Dream Foundation.
♥ My heart goes out to all of you ♥
I remember the celebration, cheering, happiness and, most of all, the feelings of hope and inspiration that seemed to flow through New Orleans after the Saints won the Super Bowl. It couldn't have come at a better time. And I truly feel that it imparted a sense of strength and revived the spirit of those who were so horribly affected by Katrina.
My objective with this jewelry was to create a material symbol of that spirit, strength and sense of hope and try to bring it alive. Because of that, and the fact that the donation is being made to Drew Brees's Charity, I decided the jewelry absolutely had to be done in the black and gold of the Saints' Who Dat Nation. I hope I've done you proud.
The beautiful lampwork glass beads in this set were handmade by Karin Hruza of Beadfairy Lampwork in Germany. They're gorgeous golden hearts and spacer beads with an almost AB-like finish that brings in hints of black and a rainbow shimmer. They were perfect for this project, but I have to admit my photos do not do them justice. This jewelry is by far and away the most difficult I've ever tried to photograph!! (I'm going to put Karin's original photos of the beads at the bottom because they're better than mine.)
Everything had to be either gold or black so I selected Jet and Crystal Gold Aurum 2x Swarovski Crystal bicones and opted for Tierra Cast Antique Gold and Black Oxide/Gunmetal Fleur de Lis charms and jubilee heart toggle clasp. The Fleur de Lis of course symbolizes New Orleans and the hearts symbolize the love that Who Dat Nation has for their Saints AND their city.
The earrings were done in the same materials to coordinate perfectly with the bracelet.
For those of you who aren't familiar with Drew Brees, he's the quarterback of the New Orleans Saints NFL Football Team here in the US and was the 2009 Super Bowl MVP. Drew and his wife Brittany, who live in New Orleans, established the Brees Dream Foundation in 2003 with a mission to advance research in the fight against Cancer and provide care, education and opportunities for children in need.
Since then they've contributed over $6 million to help advance cancer research, care for cancer patients, and help rebuild schools, parks, playgrounds, and athletic fields in New Orleans, San Diego, and Purdue/West Lafayette, Indiana.
As part of their annual Rebuilding Through Brotherhood program they host over 100 college students for a week in New Orleans to work with Habitat for Humanity.
As part of their Rebuilding Dreams Campaign, in cooperation with Operation Kids, they've completed funding over $1.8 million in projects in the greater New Orleans area including Lusher Charter School, The Sam Green Edible Schoolyard, New Orleans Outreach, Beacon of Hope Resource Centers, Best Buddies Louisiana, NORD: Pontchartrain Park, Greater New Orleans Rebuild Child Care Collaborative and New Orleans Charter Science and Math.
They've definitely given their hearts to New Orleans and continue to really make a difference so I'll be very proud to make the donation to their charity upon the sale of this set of jewelry.
To find out more about The Brees Dream Foundation or to make a donation on your own, go to www.DrewBrees.com.
To purchase this bracelet and earrings set and raise money to help our neighbors in the south, click on this link to my ArtFire Studio to purchase it from there or contact me if you wish to make other arrangements. Remember...all Designs by Debi™ Charity Pieces are one-of-a-kind pieces...if you like this set, don't wait...there will never be another one...once it's gone, it's gone forever...
The bracelet measures 8 inches from end to end and will fit a 6 inch (loosely) to 6 1/2 inch wrist. If you need the bracelet re-sized, please let me know at time of purchase and this can be done prior to shipment at no additional charge. The earrings are just under 2 1/2 inches long.
$160.00
* To Designs by Debi ArtFire Studio for purchase *
Thank you!!
These are Karin's original photos of the beads: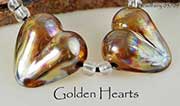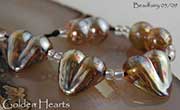 ♥
Note: If you are looking for a traditional style sterling silver and crystal Awareness Bracelets, you can find them on the Awareness Bracelets page. They are available in all colors.
♥
For more information on the Designs by Debi™ Jewelry for Charity Program, check out the Jewelry for Charity page.
Return to Jewelry for Charity
Return to Handmade Jewelry Boutique
Return to Designs by Debi Handmade Jewelry Home Page
♥ ♥ ♥ ♥ ♥ ♥ ♥ ♥ ♥ ♥ ♥ ♥ ♥
For the time being, purchases of Designs by Debi jewelry, accessories and novelties will be completed through my ArtFire Studio. Links in each item description and on each specialty item page will open the studio in a new window so you can place desired items in the shopping cart. Purchasing through ArtFire is safe, quick and easy and you do not need to have an account with ArtFire or PayPal. For more information see the FAQ's page. If you see something here that you don't see on ArtFire or you do not want to buy from my ArtFire Studio, contact me and I will work directly with you.
Thank You!
♥ ♥ ♥ ♥ ♥ ♥ ♥ ♥ ♥ ♥ ♥ ♥ ♥