Please pardon the mess while a new website is created to better serve you.
In the meantime, you can purchase some Designs by Debi™ products on Poshmark and on Etsy.
I apologize for the inconvenience.
Sign up for my newsletter to receive updates.
Contact me with any questions.
Thank you.

To benefit
The King Center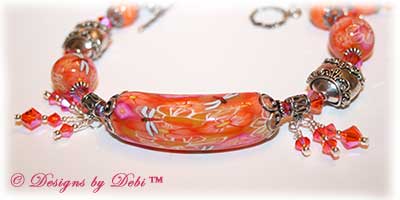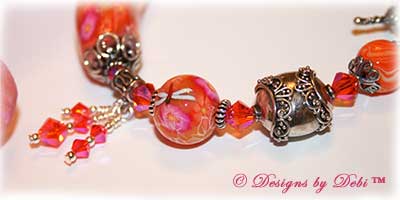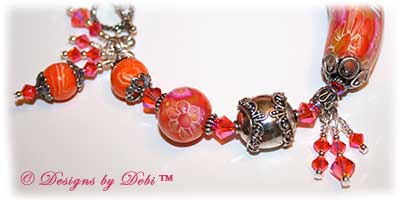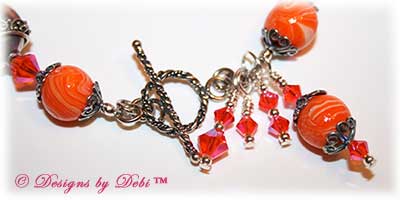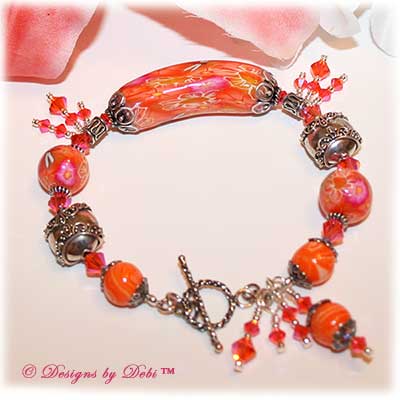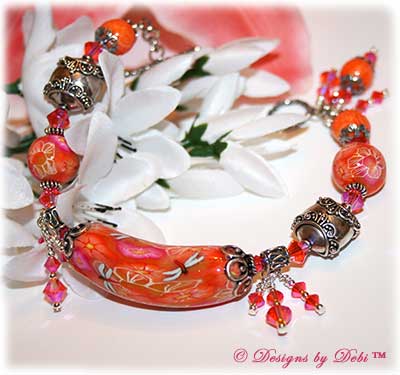 "Can't Wait for Spring!"
I began this bracelet with a set of three fun orange, pink and white polymer clay beads handmade by Bonnie Simonet. The set consists of a long, capped tube bead and two round ones all covered with flowers and dragonflies in gorgeous summer colors. And I added 3 matching orange and white swirled polymer clay beads that I made.
I accented these beads with Swarovski® red topaz AB2x bicone crystals. They match perfectly and even shimmer with pink accenting the pink flowers in the beads. I used them along the strand and in multiple dangle charms placed on either side of the focal tube bead and near the clasp. I just couldn't capture the effect of these in the photos, but believe me it's spectacular.
I included some beautifully detailed Bali fine silver puffy pillow beads, Bali tube beads, sterling silver caps, rope beads and small round accent beads. I finished the bracelet with a matching sterling silver twisted rope toggle clasp and 4 dangle charms hanging near it.
The week of March 21-27 is a Week of Solidarity with People Struggling Against Racism and Discrimination and March 21st is the International Day for the Elimination of Racial Discrimination. The ribbon color for Racial Tolerance is orange...the reason I chose an orange color scheme for the bracelet. If this is a cause that's meaningful to you, I can add the Awareness Ribbon charm to the bracelet at no charge.
I personally don't believe in race. I believe there is only ONE race...the HUMAN race...and within that race exists a diversity of cultures, languages, religions and other differences that should be celebrated and respected. I believe that we can end racism one person at a time...or maybe one family at a time... because racism is learned. Some thoughts to ponder...
♥
"No one is born hating another person because of the color of his skin, or his background or his religion. People must learn to hate and, if they can learn to hate, they can be taught to love, for love comes more naturally to the human heart than its opposite."
~ Nelson Mandela
♥
"Be the change you wish to see in the world."
~ Mahatma Gandhi
♥
The charity I've chosen to receive the donation from this month's piece is The King Center. Established in 1968 by Coretta Scott King, it's the official, living memorial dedicated to the advancement of the legacy of Dr. Martin Luther King, Jr., leader of America's greatest nonviolent movement for justice, equality and peace.
The center is located in Atlanta's Martin Luther King, Jr. National Historic Site and is visited by more than a million people from all over the world each year. Dr. King's great dream was for a Beloved Community for America and the world. The King Center uses a diverse array of media to educate people all around the world about Dr. King's life, work and philosophies in the hopes of one day seeing his dream fulfilled.
Dr. King believed that the Beloved Community was a realistic goal, achievable by following methods of nonviolence. The core value of which was agape love, an unconditional love for all.
He described agape love as "understanding, redeeming goodwill for all, an overflowing love which is purely spontaneous, unmotivated, groundless and creative…the love of God operating in the human heart." He said "Agape does not begin by discriminating between worthy and unworthy people…It begins by loving others for their sakes and makes no distinction between a friend and enemy; it is directed toward both…Agape is love seeking to preserve and create community."
I also hope we can one day achieve his dream, practice tolerance, appreciate each other's differences and live in peace.
To find out more about The King Center or to make a donation on your own, go to www.TheKingCenter.org.
To purchase this bracelet and raise money for this very worthy cause, click on the link to my ArtFire Studio to purchase it from there or contact me if you wish to make other arrangements. Remember...all Designs by Debi™ Charity Pieces are one-of-a-kind pieces...if you like this bracelet, don't wait...there will never be another one...once it's gone, it's gone forever...
The bracelet as shown measures just over 9 inches and will fit a 7 to 7 1/2 inch wrist. I purposely left the additional rings on both parts of the clasp to be able to adjust it to fit a wider range of sizes without altering the design. If you need the bracelet re-sized, please let me know at time of purchase and this can be done prior to shipment at no additional charge.
$128.00
* To Designs by Debi ArtFire Studio for purchase *
Thank you!!
Note: If you are looking for a traditional style sterling silver and crystal Awareness Bracelet, you can find them on the Awareness Bracelets page. They are available in all colors.
♥
For more information on the Designs by Debi™ Jewelry for Charity Program, check out the Jewelry for Charity page.
Return to Jewelry for Charity
Return to Handmade Jewelry Boutique
Return to Designs by Debi Handmade Jewelry Home Page
♥ ♥ ♥ ♥ ♥ ♥ ♥ ♥ ♥ ♥ ♥ ♥ ♥
For the time being, purchases of Designs by Debi jewelry, accessories and novelties will be completed through my ArtFire Studio. Links in each item description and on each specialty item page will open the studio in a new window so you can place desired items in the shopping cart. Purchasing through ArtFire is safe, quick and easy and you do not need to have an account with ArtFire or PayPal. For more information see the FAQ's page. If you see something here that you don't see on ArtFire or you do not want to buy from my ArtFire Studio, contact me and I will work directly with you.
Thank You!
♥ ♥ ♥ ♥ ♥ ♥ ♥ ♥ ♥ ♥ ♥ ♥ ♥