Please pardon the mess while a new website is created to better serve you.
In the meantime, you can purchase some Designs by Debi™ products on Poshmark and on Etsy.
I apologize for the inconvenience.
Sign up for my newsletter to receive updates.
Contact me with any questions.
Thank you.

To benefit
The Cystic Fibrosis Foundation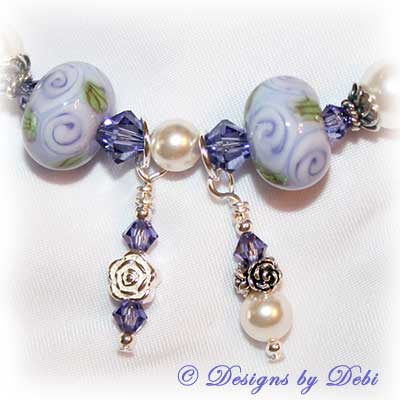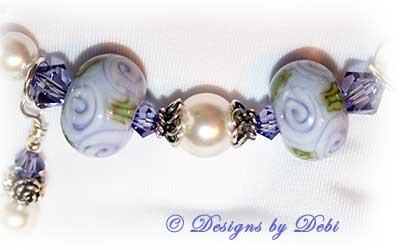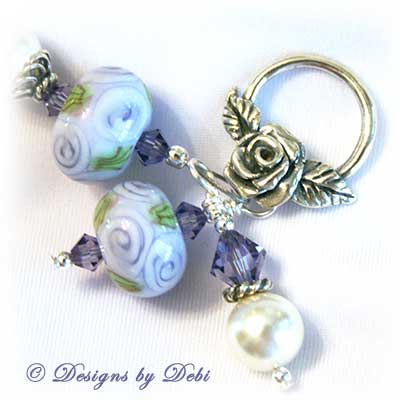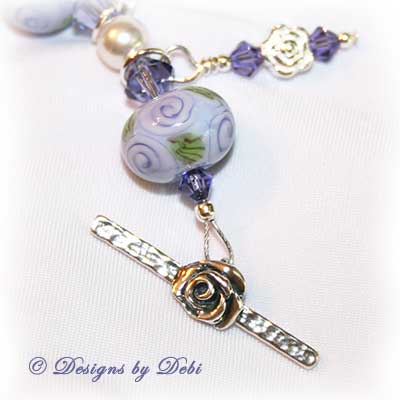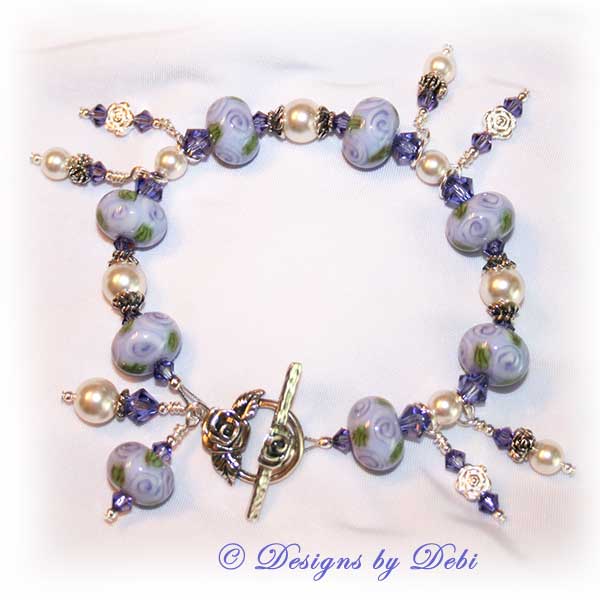 "65 Roses for Cystic Fibrosis"
I began this piece with some beautiful artisan lampwork beads handmade by Kathie Urato of Blackstone, Massachusetts. They are somewhat round beads in shades of purple adorned with purple roses and green leaves.
This piece is a simpler design than most of my Jewelry for Charity pieces, but it holds great significance. "65 Roses" is what children with cystic fibrosis commonly call their disease because the words are much easier for them to pronounce. Because of this, my focus was to carefully plan this bracelet to include 65 roses...and I did.
Swarovski Crystal tanzanite bicones and round, white Swarovski pearls are used throughout the piece. Antiqued sterling silver bead caps elegantly cover the larger pearls. Dangling at intervals along the bracelet are small charms made with sterling silver rose beads, sterling silver rose spacers, tanzanite crystals and white pearls. The bracelet finishes with two more larger dangles hanging near its sterling silver roses toggle clasp.
The charity I've chosen for this month, to receive the donation from this piece, is The Cystic Fibrosis Foundation. May is
Cystic Fibrosis Awareness Month and the Awareness Ribbon for Cystic Fibrosis is purple. That's the reason for the purple color scheme of the bracelet. And if Cystic Fibrosis is a cause that's special to you, I can add the Awareness Ribbon charm to the bracelet at no charge.
Cystic fibrosis is an inherited chronic disease that affects the lungs and digestive system. A defective gene and its protein product cause the body to produce unusually thick, sticky mucus that clogs the lungs leading to life-threatening lung infections and obstructs the pancreas stopping natural enzymes from helping the body break down and absorb food. There are about 30,000 children and adults in the United States with this disease and about 70,000 worldwide. About 1,000 new cases of cystic fibrosis are diagnosed each year, with most patients diagnosed by age two.
Since 1955, The Cystic Fibrosis Foundation has been the driving force behind the pursuit of a cure. They are the leading organization in the US devoted to cystic fibrosis. They are a nonprofit donor-supported organization working to assure the development of a cure and means to control cystic fibrosis as well as improving the quality of life for those with the disease. They fund and accredit more than 115 CF care centers, 95 adult care programs and 50 affiliate programs, and they have 80 chapters and branch offices nationwide.
When the Foundation was established in 1955, children with CF were not expected to live long enough to attend elementary school. Due in large part to the Foundation's aggressive investments in innovative research and comprehensive care, the predicted median survival age for people with this disease is now more than 37 years.
In 1989, CF Foundation-supported scientists discovered the defective gene that causes cystic fibrosis; a monumental breakthrough on the road to a cure. The Foundation has also played an integral role in the development and FDA approval of four therapies that are now a routine part of treatment regimens for many with CF. And they are actively supporting more than 30 potential new treatments currently in development (more than in the entire history of the disease).
The Cystic Fibrosis Foundation is one of the most efficient organizations of its kind and has received a four-star rating for sound fiscal management from Charity Navigator, the largest independent charity evaluator in the United States. They are also an accredited charity of the Better Business Bureau's
Wise Giving Alliance.
To find out more about The Cystic Fibrosis Foundation or to make a donation on your own, go to www.CFF.org.

To purchase this bracelet and raise money for this very worthy cause, click on this link to my ArtFire Studio to purchase it from there or contact me if you wish to make other arrangements. Remember...all Designs by Debi™ Charity Pieces are one-of-a-kind pieces...if you like this bracelet, don't wait...there will never be another one...once it's gone, it's gone forever...
The bracelet measures 8 1/4 inches and will fit a 6 inch or smaller wrist. If you need the bracelet re-sized, please let me know at time of purchase and this can be done prior to shipment at no additional charge.
Sold ~ Thank You!!
A donation was made to The Cystic Fibrosis Foundation in honor of Caninn, a brave little boy from Nevada who, with the help of his family, battles Cystic Fibrosis every day.
♥
65 Roses® is a registered trademark of
The Cystic Fibrosis Foundation.
♥
For more information on the Designs by Debi™ Jewelry for Charity Program, check out the Jewelry for Charity page.
Note: If you are looking for a traditional style sterling silver and Swarovski crystal Awareness Bracelet, they are available for custom order in all colors. Please see the Awareness Bracelets page.
Return to Jewelry for Charity
Return to Handmade Jewelry Boutique
Return to Designs by Debi Handmade Jewelry Home Page
♥ ♥ ♥ ♥ ♥ ♥ ♥ ♥ ♥ ♥ ♥ ♥ ♥
For the time being, purchases of Designs by Debi jewelry, accessories and novelties will be completed through my ArtFire Studio. Links in each item description and on each specialty item page will open the studio in a new window so you can place desired items in the shopping cart. Purchasing through ArtFire is safe, quick and easy and you do not need to have an account with ArtFire or PayPal. For more information see the FAQ's page. If you see something here that you don't see on ArtFire or you do not want to buy from my ArtFire Studio, contact me and I will work directly with you.
Thank You!
♥ ♥ ♥ ♥ ♥ ♥ ♥ ♥ ♥ ♥ ♥ ♥ ♥