Please pardon the mess while a new website is created to better serve you.
In the meantime, you can purchase some Designs by Debi™ products on Poshmark and on Etsy.
I apologize for the inconvenience.
Sign up for my newsletter to receive updates.
Contact me with any questions.
Thank you.

To benefit
The Intrepid Fallen Heroes Fund
National Intrepid Center of Excellence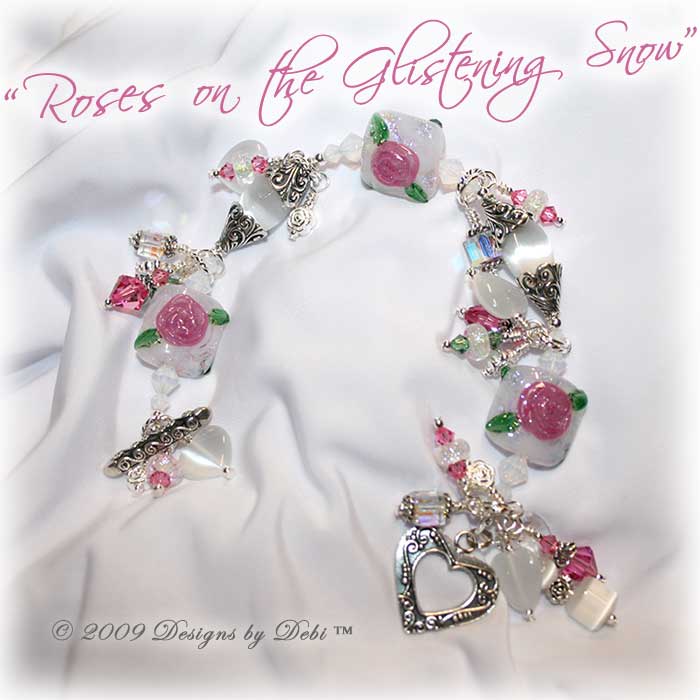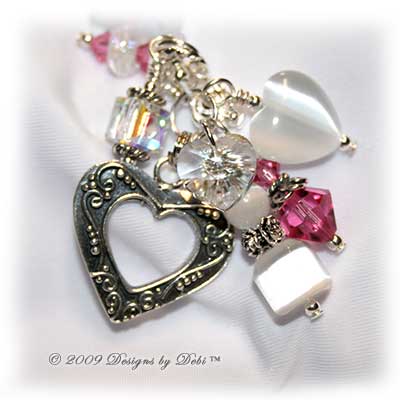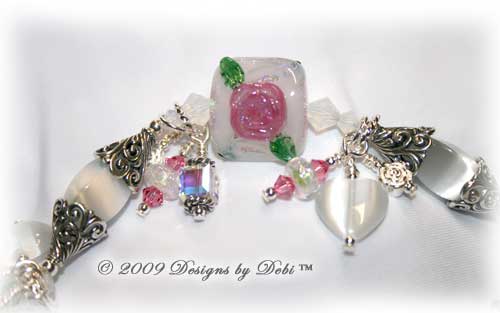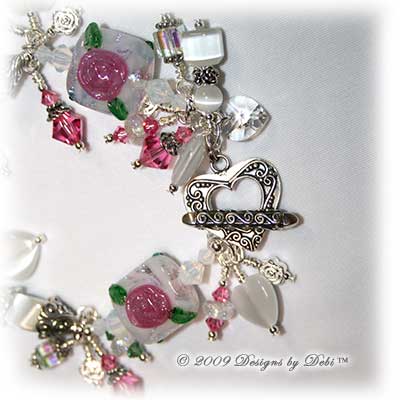 "Roses on the Glistening Snow"
I began this piece with some exquisite artisan lampwork beads made by the extremely talented, Vicki Harrison of Victoria Gail Studio. These include her beautiful pillow beads with pink roses and green leaves layered atop a swirl of white and dichroic glass as well as her matching dichroic spacers. These beads were taken from a set in my personal collection. As those of you who have read my Artist Bio know, there is a special meaning to the magenta rose in my logo so finding these beads was a delight. I decided to part with a few for this special piece because I thought it fitting that they be included in the first Designs by Debi™ Collectible Charity Piece.
Fine silver bead caps and a toggle handmade by silversmiths in Bali, Indonesia continue the swirling design of the bracelet. White Cat's Eye beads in round, cube, twist and heart shapes complement the lampwork glass. In keeping with the theme of roses, I've added sterling silver rose beads and spacers on dangles as hanging accents. Swarovski® crystal bicones and cubes in white opal, crystal AB, rose and erinite are used throughout the piece. Look closely and you'll also find a Swarovski® crystal heart floating on a dangle near the clasp... I love hearts :)
It is also fitting that this first piece benefit our troops and veterans in some way. I know what you're thinking...pink roses to raise money for troops and veterans...what a crazy combination. For me though, symbolically, it's the perfect combination.
My grandfather was an Army veteran. He passed away when I was 13, but we were very close and I still miss him. When I visit his resting place, I always bring dark pink roses...sometimes they are left on green grass and other times on glistening white snow. I also spent many years caring for my veterans at the V.A. Medical Center here in Rhode Island and charities that benefit our troops, veterans and their families are very dear to me.
The charity I've selected to receive the donation from this piece is the Intrepid Fallen Heroes Fund; specifically the National Intrepid Center of Excellence that they are building on the Navy Campus at Bethesda.
The facility will be dedicated to research, diagnosis and treatment of military personnel and veterans suffering from Traumatic Brain Injury, Post-Traumatic Stress Disorder and other psychological health problems; problems so many of our troops returning home from Iraq and Afganistan are faced with.
It's going to be a state-of-the-art facility catering to the needs of patients, providers and families dealing with these issues. Family participation in care is a key component of their program.
They broke ground on the project on June 5, 2008 and the NICoE is expected to be completed in mid-2010.
To find out more about the Intrepid Fallen Heroes Fund, the National Intrepid Center of Excellence or to make a donation on your own, go to www.FallenHeroesFund.org. 100% of donations go directly to the fund's programs.
To purchase this bracelet and raise money for this very worthy cause, click on this link to my ArtFire Studio to purchase it from there or contact me if you wish to make other arrangements. Remember...all Designs by Debi™ Charity Pieces are one-of-a-kind pieces...if you like this bracelet, don't wait...there will never be another one...once it's gone, it's gone forever...
The bracelet measures 8 3/4 inches and will fit a 6 inch (very loosely) to 6 3/4 inch wrist. If you need the bracelet re-sized, please let me know at time of purchase and this can be done prior to shipment at no additional charge.

$350.00
* To Designs by Debi ArtFire Studio for purchase *
Thank you!!
♥
For more information on the Designs by Debi™ Jewelry for Charity Program, check out the Jewelry for Charity page.
Note: If you are looking for a traditional style sterling silver and Swarovski crystal Awareness Bracelet, they are available for custom order in all colors. Please see the Awareness Bracelets page.
Return to Jewelry for Charity
Return to Handmade Jewelry Boutique
Return to Designs by Debi Handmade Jewelry Home Page
♥ ♥ ♥ ♥ ♥ ♥ ♥ ♥ ♥ ♥ ♥ ♥ ♥
For the time being, purchases of Designs by Debi jewelry, accessories and novelties will be completed through my ArtFire Studio. Links in each item description and on each specialty item page will open the studio in a new window so you can place desired items in the shopping cart. Purchasing through ArtFire is safe, quick and easy and you do not need to have an account with ArtFire or PayPal. For more information see the FAQ's page. If you see something here that you don't see on ArtFire or you do not want to buy from my ArtFire Studio, contact me and I will work directly with you.
Thank You!
♥ ♥ ♥ ♥ ♥ ♥ ♥ ♥ ♥ ♥ ♥ ♥ ♥