Please pardon the mess while a new website is created to better serve you.
In the meantime, you can purchase some Designs by Debi™ products on Poshmark and on Etsy.
I apologize for the inconvenience.
Sign up for my newsletter to receive updates.
Contact me with any questions.
Thank you.

To benefit
The Alzheimer's Association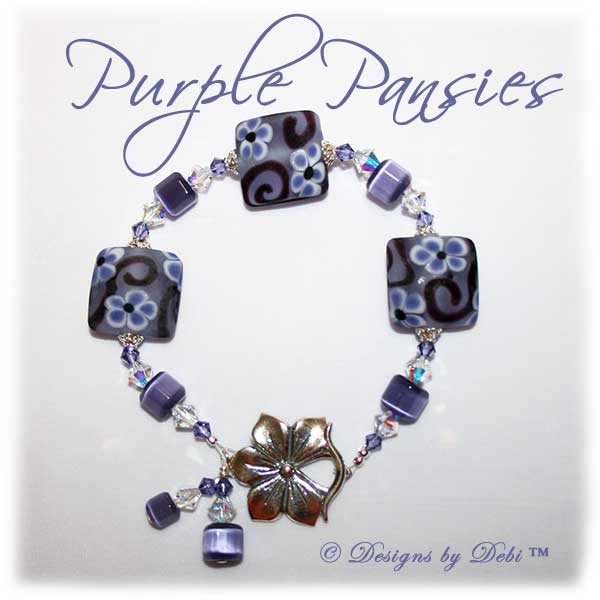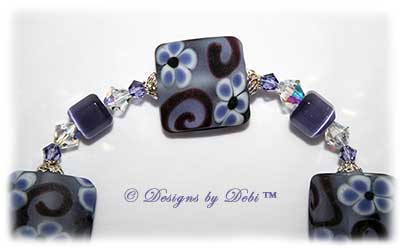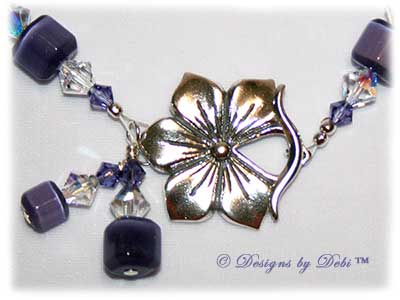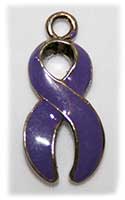 "Purple Pansies"
I began this bracelet with square pillow artisan lampwork beads handmade by Debbie Knowlton of Beadiful Lampwork Beads. They have a pale lavender base, purple pansies, amethyst scrolls and are etched for a beautiful matte finish.
I accented her beads with purple cat's eye cubes and Swarovski® crystal bicones in crystal AB (aurora borealis) and tanzanite. The glass beads are capped with bright sterling silver swirled bead caps. The bracelet finishes with a sterling silver pansy flower toggle clasp that coordinates perfectly with the beads. I hung two coordinating dangles on the end of the bracelet near the clasp. They were made with Swarovski® crystal bicones and cat's eye cubes.
November is National Alzheimer's Disease Awareness Month and the Awareness Ribbon for this cause is purple. That's the reason for the purple color scheme of the bracelet. And if this is a cause that's meaningful to you, I can add the Awareness Ribbon charm to the bracelet at no charge.
The charity I've chosen to receive the donation from this month's piece is the Alzheimer's Association.
Alzheimer's is a brain disease that causes problems with memory, thinking and behavior. It's the most common form of dementia, a general term for memory loss and other intellectual disabilities serious enough to interfere with daily life, and it accounts for 50 to 70 percent of dementia cases.
Alzheimer's is not a normal part of aging, although the greatest known risk factor is increasing age, and the majority of people with Alzheimer's are 65 and older. But up to 5 percent of people with the disease have early-onset Alzheimer's (also known as younger-onset), which often appears when someone is in their 40s or 50s.
Symptoms usually develop slowly and get worse over time. In its early stages, memory loss is mild, but with late-stage Alzheimer's, individuals lose the ability to carry on a conversation and respond to their environment. Alzheimer's is the sixth leading cause of death in the United States.
The Alzheimer's Association is the leading, global, donor-supported voluntary health organization in Alzheimer care and support, and the largest private, nonprofit funder of Alzheimer's research.
In 1979, Jerome H. Stone and representatives from several family support groups met with the National Institute on Aging to explore the value of a national, independent, nonprofit organization to complement federal efforts surrounding Alzheimer's disease. That meeting resulted in the April 10, 1980, formation of the Alzheimer's Association with Mr. Stone as founding president. Today, the Association reaches millions of people affected by Alzheimer's across the globe and is a catalyst for advancements in Alzheimer research and care.
The Alzheimer's Association works on global, national and local levels to enhance care and support for all those affected by Alzheimer's and related dementias.
They have local chapters across the nation, providing services within each community.

They have a professionally-staffed hotline operating 24/7 offering information and advice to more than 250,000 callers each year and provides translation services in more than 170 languages.

They run support groups throughout the country and deliver 20,000 education programs annually in addition to offering online information in 17 languages.

They house the Alzheimer's Association Green-Field Library, the nation's largest library and resource center devoted to increasing knowledge about Alzheimer's disease and related dementias.

Their online suite of resources, Alzheimer's Association CareSource™, helps caregivers coordinate assistance from family and friends, locate senior housing, and enhance caregiving skills.

Their safety services, Comfort Zone and MedicAlert® + Alzheimer's Association Safe Return®, provide location management for people with Alzheimer's who wander.

And they help people find clinical trials through their free service Alzheimer's Association TrialMatch, which makes it easy to search opportunities based on personal criteria.
Their annual Memory Walk is the nation's largest event to raise awareness and funds for Alzheimer care, support and research.
They are the largest, private non-profit funder of Alzheimer research, committed to accelerating progress of new treatments, preventions and ultimately, a cure. They have been part of every major research advancement over the past 30 years.
They have a peer-reviewed research grant program, which has awarded more than $279 million to 1,900 scientists since 1982.

They hold an annual International Conference on Alzheimer's Disease (AAICAD) that brings together thousands of researchers to share information and findings.

They publish Alzheimer's & Dementia, a scientific journal providing a single publication for the global scientific community to share its diverse knowledge.

To find out more about the Alzheimer's Association or to make a donation on your own, go to www.ALZ.org.
To purchase this bracelet and raise money for this very worthy cause, click on this link to my ArtFire Studio to purchase it from there or contact me if you wish to make other arrangements. Remember...all Designs by Debi™ Charity Pieces are one-of-a-kind pieces...if you like this bracelet, don't wait...there will never be another one...once it's gone, it's gone forever...
The bracelet measures 8 3/4 inches and will fit a 6 1/4 inch (loosely, but secure) to 7 1/4 inch wrist. If you need the bracelet re-sized, please let me know at time of purchase and this can be done prior to shipment at no additional charge.
Sold ~ Thank You!!
A donation was made to the Alzheimer's Association in honor of
Paul Moore, an outstanding individual and Veteran who was always honest, had integrity, believed in being the best that you could be and who was loved very much and now missed very much by his daughter Linda.
♥
Note: If you are looking for a traditional style sterling silver and crystal Awareness Bracelet, you can find them on the Awareness Bracelets page. They are available in all colors.
♥
For more information on the Designs by Debi™ Jewelry for Charity Program, check out the Jewelry for Charity page.
Return to Jewelry for Charity
Return to Handmade Jewelry Boutique
Return to Designs by Debi Handmade Jewelry Home Page
♥ ♥ ♥ ♥ ♥ ♥ ♥ ♥ ♥ ♥ ♥ ♥ ♥
For the time being, purchases of Designs by Debi jewelry, accessories and novelties will be completed through my ArtFire Studio. Links in each item description and on each specialty item page will open the studio in a new window so you can place desired items in the shopping cart. Purchasing through ArtFire is safe, quick and easy and you do not need to have an account with ArtFire or PayPal. For more information see the FAQ's page. If you see something here that you don't see on ArtFire or you do not want to buy from my ArtFire Studio, contact me and I will work directly with you.
Thank You!
♥ ♥ ♥ ♥ ♥ ♥ ♥ ♥ ♥ ♥ ♥ ♥ ♥