Please pardon the mess while a new website is created to better serve you.
In the meantime, you can purchase some Designs by Debi™ products on Poshmark and on Etsy.
I apologize for the inconvenience.
Sign up for my newsletter to receive updates.
Contact me with any questions.
Thank you.

To benefit
Catholic Charities USA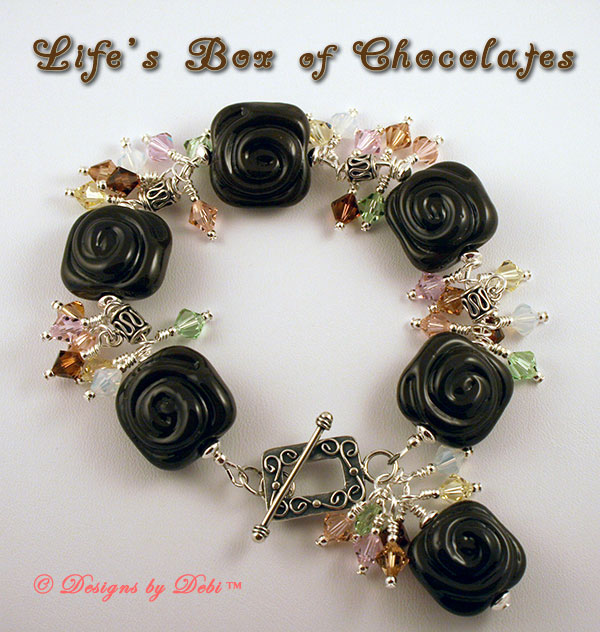 "Life's Box of Chocolates"
"Life is like a box of chocolates... You never know what
you're gonna get."
~ Tom Hanks (as Forrest Gump)

This is so true. You just never know. And the fact is right now, with the economy in such bad shape, there are millions of people around the world unexpectedly tumbling into poverty... somewhere they never thought they'd be. Today, October 17th, is the International Day for the Eradication of Poverty and it's the cause for which this piece was made.
A box of chocolates may seem to be an odd theme and, I admit, it came about in a strange way. Every month, unless I've gotten a special request, there's a process I follow to select the cause and charity for the following month. I selected the Eradication of Poverty and, as I continued my process, I noticed that October 28th is National Chocolates Day. The Forrest Gump quote popped into my head. I thought about the kinds of things so many families are struggling with right now. Then I remembered the set of chocolate squares beads I had and the inspiration flowed from there... you just never know where inspiration and ideas will come from. Sometimes it's the oddest combinations. So many people in the world today can't afford the bare necessities. I wish everyone in the world could have everything they need and at least enough left over to enjoy a box of chocolates.
These look-good-enough-to-eat chocolates are lampwork glass beads handmade by Jayne at Badger Beads Lampwork in Wisconsin. I selected crystal colors to represent the various fillings you'd find in a box of chocolates... chocolate, caramel, strawberry cream, orange cream, lemon cream, mint, coconut and marshmallow. The crystals dangle between the chocolate pieces from a wavy sterling silver tube bead and a Bali silver barrel floating along it so there's alot of movement to this piece. The toggle clasp is a beautiful Bali silver rectangle with a swirled pattern coordinating nicely with the rest of the bracelet. The components come together to bring you an everlasting box of chocolates... with no calories! So, what's your favorite?

As I said earlier October 17th is the International Day for the Eradicaton of Poverty and I believe charity begins at home. Catholic Charities USA works to reduce poverty in America so I've selected them to receive the donation from this piece. Their members support local Catholic Charities as they provide help and create hope for over 9 million people each year regardless of religious, social, or economic backgrounds. They support local agencies by advocating federal policymakers on their poverty reduction agenda and promoting the work of local Catholic Charities to the media and general public. They provide networking opportunities and serve as the national voice maintaining contact with other Catholic Charities movements around the world. They provide training, financial support and leadership to local agencies and have been chosen to represent the Catholic community in times of domestic disaster.

To find out more about Catholic Charities USA or to make a donation on your own, go to www.CatholicCharitiesUSA.org.
To purchase this bracelet and raise money for this charity, click on this link to my ArtFire Studio to purchase it from there or contact me if you wish to make other arrangements. Remember...all Designs by Debi™ Charity Pieces are one-of-a-kind pieces...if you like this bracelet, don't wait...there will never be another one...once it's gone, it's gone forever...
The bracelet measures 8 3/4 inches long and will best fit a 6 1/4 (very loosely) to 7 inch wrist. If you need it re-sized, please let me know at time of purchase and this can be done prior to shipment at no additional charge.
$162.00
* To Designs by Debi ArtFire Studio for purchase *
Thank you!!
♥
Note: If you are looking for a traditional style sterling silver and crystal Awareness Bracelet, you can find them on the Awareness Bracelets page. They are available in all colors.
♥
For more information on the Designs by Debi™ Jewelry for Charity Program, check out the Jewelry for Charity page.
Return to Jewelry for Charity
Return to Handmade Jewelry Boutique
Return to Designs by Debi Handmade Jewelry Home Page
♥ ♥ ♥ ♥ ♥ ♥ ♥ ♥ ♥ ♥ ♥ ♥ ♥
For the time being, purchases of Designs by Debi jewelry, accessories and novelties will be completed through my ArtFire Studio. Links in each item description and on each specialty item page will open the studio in a new window so you can place desired items in the shopping cart. Purchasing through ArtFire is safe, quick and easy and you do not need to have an account with ArtFire or PayPal. For more information see the FAQ's page. If you see something here that you don't see on ArtFire or you do not want to buy from my ArtFire Studio, contact me and I will work directly with you.
Thank You!
♥ ♥ ♥ ♥ ♥ ♥ ♥ ♥ ♥ ♥ ♥ ♥ ♥