Please pardon the mess while a new website is created to better serve you.
In the meantime, you can purchase some Designs by Debi™ products on Poshmark and on Etsy.
I apologize for the inconvenience.
Sign up for my newsletter to receive updates.
Contact me with any questions.
Thank you.

To benefit
St Jude Children's Research Hospital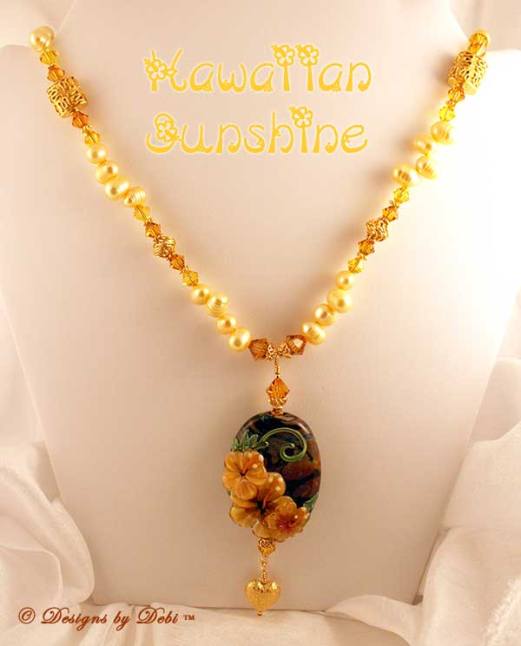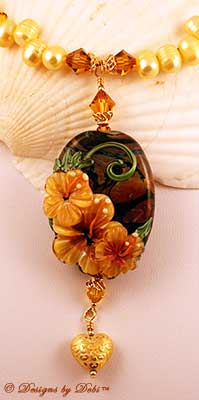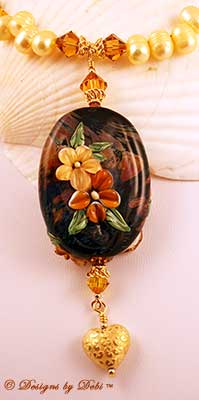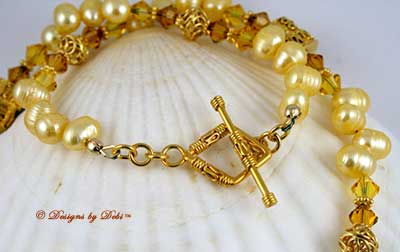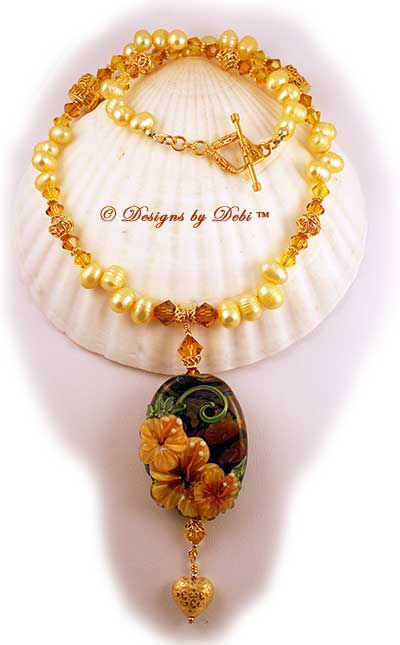 "Hawaiian Sunshine"
If you've read about last month's Jewelry for Charity Set, you know there's a young boy from Louisiana battling cancer who has touched my heart and, along with his family, become a special part of my life. As a last resort for treatment, Dylan was sent to St Jude Children's Research Center for a clinical trial. Unfortunately the trial was not successful and there's nothing more that can be done.
September is Childhood Cancer Awareness Month. I designed this necklace in gold/yellow because it's the awareness ribbon color for Childhood Cancer. And, in honor of Dylan and the chance they tried to give him, I've decided that the donation from this month's piece will go to St Jude.
The gorgeous hibiscus focal was handmade by Susan at Doodletart Glass. I used some beautiful, golden yellow, dancing freshwater pearls along the length of the necklace. Bali vermeil squiggle pillows, filigree bicones and caps, daisy spacers, diamond-shaped toggle clasp and puffy heart dangle add rich golden color and interesting textures to the piece. I added light-catching shimmer and darker accent tones with Swarovski crystal bicones in topaz and light topaz.
For those of you not familiar with it, St Jude Children's Research Hospital was opened in Memphis, Tennessee in 1962 by Danny Thomas to find cures for the catastrophic diseases of childhood with its focus being on childhood cancer. It had 125 employees and an annual budget of $1 million. Over the years AIDS Research was added and their annual budget increased to $100 million. In 2005, they completed an expansion that more than doubled the size of the original campus. They've added gene therapy and expanded their focus to include infectious diseases and genetic disorders and now have 3,400 employees and an annual budget of over $400 million.
Their founder's vision was for no child to be denied treatment based on race, religion or a family's ability to pay and the facility adheres to that vision today. There's no place like St Jude and it's a beacon of hope, often a last resort, in a parent's darkest nightmare.

To find out more about St Jude Children's Research Center or to make a donation on your own, go to www.StJude.org.
To purchase this necklace and raise money for this wonderful place helping so many families, click on this link to my ArtFire Studio to purchase it from there or contact me if you wish to make other arrangements. Remember...all Designs by Debi™ Charity Pieces are one-of-a-kind pieces...if you like this necklace, don't wait...there will never be another one...once it's gone, it's gone forever...
The necklace measures 19 1/2 inches long and the center adornment hangs down 3 3/4 inches.
$212.00
* To Designs by Debi ArtFire Studio for purchase *
Thank you!!
♥
Note: If you are looking for a traditional style sterling silver and crystal Awareness Bracelets, you can find them on the Awareness Bracelets page. They are available in all colors.
♥
For more information on the Designs by Debi™ Jewelry for Charity Program, check out the Jewelry for Charity page.
Return to Jewelry for Charity
Return to Handmade Jewelry Boutique
Return to Designs by Debi Handmade Jewelry Home Page
♥ ♥ ♥ ♥ ♥ ♥ ♥ ♥ ♥ ♥ ♥ ♥ ♥
For the time being, purchases of Designs by Debi jewelry, accessories and novelties will be completed through my ArtFire Studio. Links in each item description and on each specialty item page will open the studio in a new window so you can place desired items in the shopping cart. Purchasing through ArtFire is safe, quick and easy and you do not need to have an account with ArtFire or PayPal. For more information see the FAQ's page. If you see something here that you don't see on ArtFire or you do not want to buy from my ArtFire Studio, contact me and I will work directly with you.
Thank You!
♥ ♥ ♥ ♥ ♥ ♥ ♥ ♥ ♥ ♥ ♥ ♥ ♥