Please pardon the mess while a new website is created to better serve you.
In the meantime, you can purchase some Designs by Debi™ products on Poshmark and on Etsy.
I apologize for the inconvenience.
Sign up for my newsletter to receive updates.
Contact me with any questions.
Thank you.

These are some Signature Collection Earrings that are in-stock, already made and ready to ship. But, these earrings are always available for order and can be made in any (or a combination of) Swarovski® Crystal colors, metals and styles other than leverbacks. So if you don't see what you want, just contact me.
**z-below-paragraph-1.shtml***
♥
I design all of my earrings in leverback, post or ear thread styles. However, most can be changed to the style of your liking. As shown in the picture below, you can choose from leverback, post, fish hook, surgical steel fish hook, ear threads and even clip-on styles for those of you who don't have pierced ears.
Not all styles are available in all metal types, but please feel free to ask because I do stock many styles in sterling silver, sterling silver plated , gold-filled, gold plated, copper and stainless steel. And I can special order items not in stock.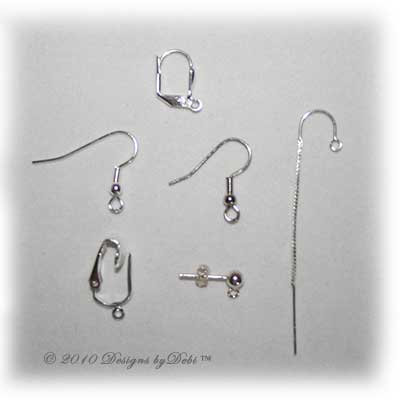 ♥
You can find Designs by Debi™ Signature Collection Bangles here.
♥
You can find Designs by Debi™ Signature Collection Necklaces here.
♥
You can find Designs by Debi™ Signature Collection Anklets here.
♥
Return to Signature Collection
Return to Handmade Jewelry Boutique
Return to Designs by Debi Handmade Jewelry Home Page
♥ ♥ ♥ ♥ ♥ ♥ ♥ ♥ ♥ ♥ ♥ ♥ ♥
For the time being, purchases of Designs by Debi jewelry, accessories and novelties will be completed through my ArtFire Studio. Links in each item description and on each specialty item page will open the studio in a new window so you can place desired items in the shopping cart. Purchasing through ArtFire is safe, quick and easy and you do not need to have an account with ArtFire or PayPal. For more information see the FAQ's page. If you see something here that you don't see on ArtFire or you do not want to buy from my ArtFire Studio, contact me and I will work directly with you.
Thank You!
♥ ♥ ♥ ♥ ♥ ♥ ♥ ♥ ♥ ♥ ♥ ♥ ♥